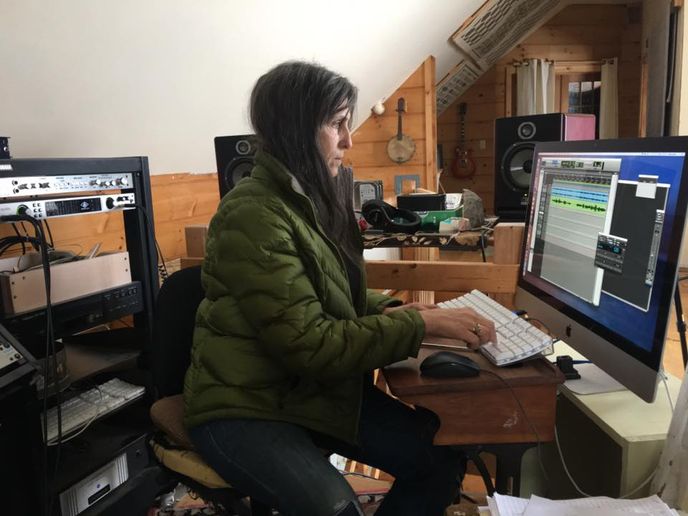 This has been one of the most busy winters I've had in a while and creative projects in the studio are stacking up; not a bad thing! I'm in the producer's role for most of them, engineering, arranging, playing parts & hiring session players to support these collaborative visions. I'm proud of the unique process that brings each album recorded at Pepperbox Studio to completion. It takes courage & determination to show up for work that is at once personal and universal. Music created here often gets built from just a single voice or rudimentary chord progression. Songs come forward and are cared for. I can't tell you how exciting it is to enter into another songwriter's world, to find a connection to my own musical heart and mind. The challenges and surprises are endless. Payback is sweet, when the artist walks out with something to share with the world, be it family, friends, strangers or bigger audiences. For all of us, there is deep learning, through diligent engagement & thoughtful self expression.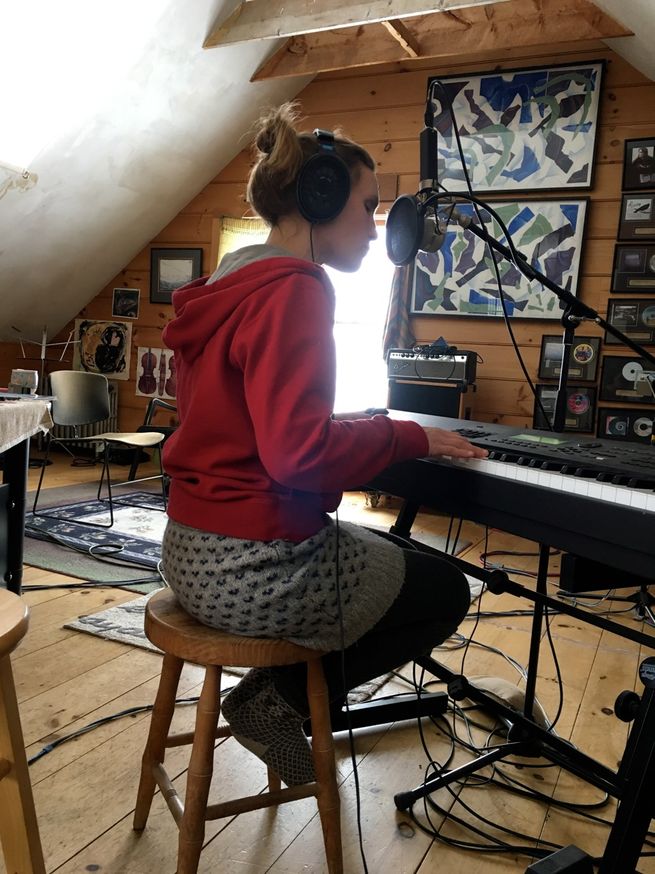 Ariel Zevon comes honestly to her songwriting chops, but probably didn't dream much about taking her music to the next step until I coaxed her out of the closet. Well, not exactly a closet but an off-grid farm in the sticks where she single parents twin teenage boys, raises goats, rabbits, llamas, chicken & other animals while running a whole foods catering business out of her richly illustrated food truck. I was looking for something fun to do, that would hopefully engage new parts of my musical brain when I happened to stumble across a few of Ariel's selfie videos, buried on Youtube. We knew each other already, but not that well, so I texted her. "What the heck? I didn't know you wrote songs! And they're good!" We had agreed it would be an experiment, never to see the light of day if necessary. The rest is history. We're in the final stages of recording her first album of original songs.  I'm happy to report that broken plow trucks have not deterred us nor has head scratching made us bald. We have much to revel in & a little more hard work to lean into so stay posted for a Kickstarter campaign due out in the next month!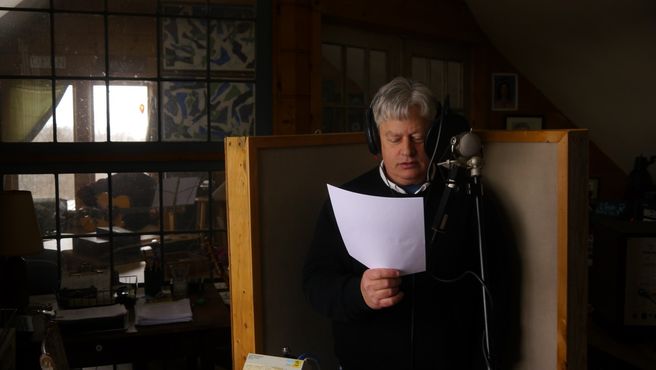 Robert Bryant came to Pepperbox Studio with a group of songs and song ideas, with a vision for building an album of original music from the ground up. Over the course of many months, we would sketch things out, often sitting by the wood stove,until the chords sounded right, then go upstairs to record and listen again. The process was slow, the results are magnificent. We've since incorporated fiddle work from Patrick Ross, blues guitar from Dave Keller and harmony vocals from Robert's daughter, Caileigh. Of course I have thrown in many a guitar part, mandolin parts and the occasional bass line. We're getting close to the end of our creative odyssey, adding final edits and working up final mixes for what looks like will be two albums, with distinctively different styles, each one showcasing a different side of Robert's songwriting. All this from an artist who, when he first came through the door, did not feel comfortable calling himself a musician! I'm excited for him and for all of us who contributed to this work; I feel grateful to have been a part of it.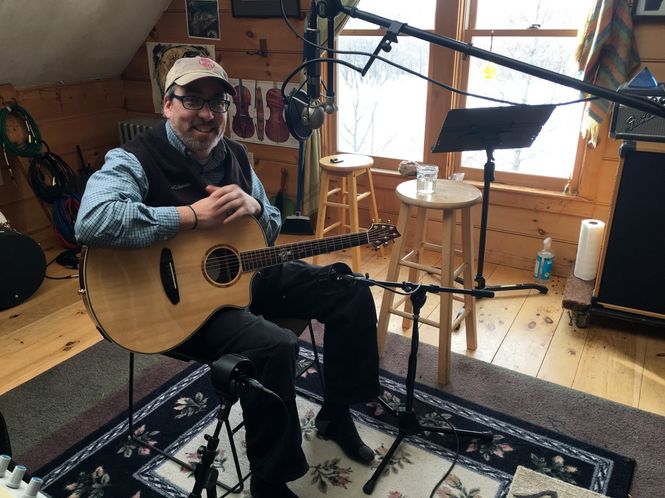 I met Jamie Gage when he interviewed me for his radio show "Green Mountain Global" on Royalton Community Radio. I found out then that he was a poet, and finishing up a poetry book to be published by Finishing Line Press of Kentucky. Being a poetry junkie and curious about it, I made sure to get a copy when it came out! Fast forward to our next encounter in which he informed me that he wrote songs too and was serious about doing some recording with me. I could only imagine the wonderful convergence of words and sounds coming my way! This has opened up into a wonderful experience for both of us, putting together an EP of six original songs, with some light production. Being new to recording always necessitates taking a little extra time to find the most comfortable way to get the most natural performance. This sets the session up right to move forward in a relaxed way. The immersion into Jamie's poetry has been a joy. Stay posted for the results of our collaboration!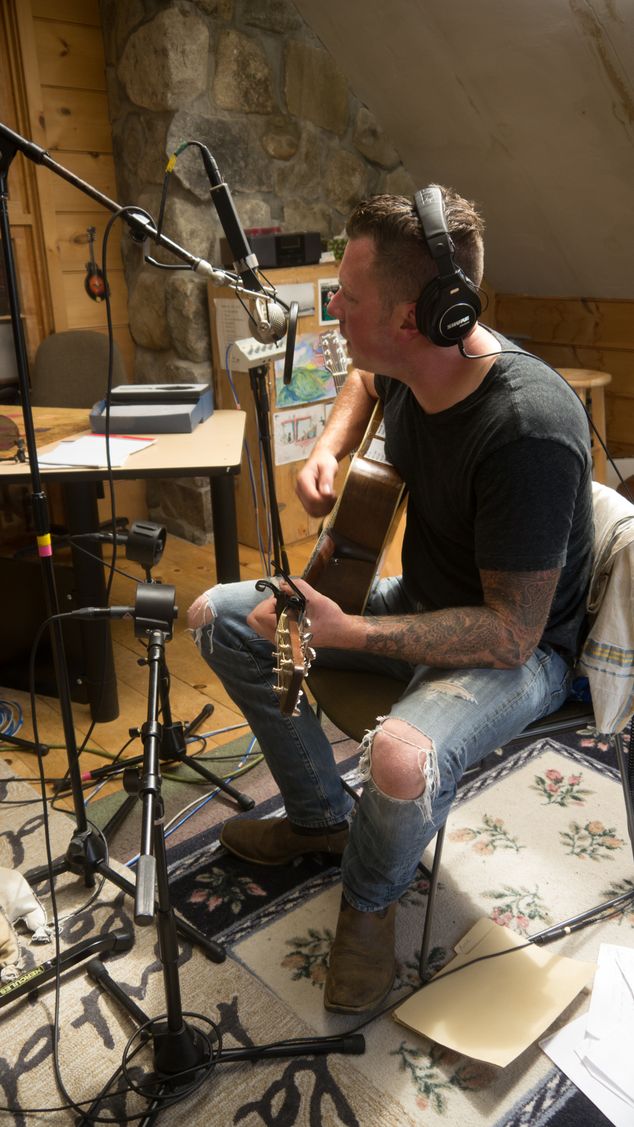 People find out about what I do in different ways. Ben Fuller arrived at Pepperbox Studio because he works outdoors as a landscaper - and so do I! In Vermont, artists often need more than one job. So it was through this non-music network that he was referred to me, as others pushed him to get rolling with his musical aspirations. And let me tell you, his talent is larger than life. This guy could be in Nashville, killin' it. But he's not. He's in Vermont, grew up on a tractor, works with his hands, and goes to open mics for fun. He could take his music anywhere, and that will be his challenge. Step one has been to record a group of solid country covers, and step two is to begin writing and recording his first group of original songs. We've done a music video of the first of these original songs, here: Lion Eyes. Like most young people, Ben is working more than full time to make ends meet, so this project is a labor of love that moves forward in fits and starts, when he can steal the time. That's no problem, because he has what it takes to bring it home. And its another exciting opportunity for me to hone my production chops and help someone realize their dreams.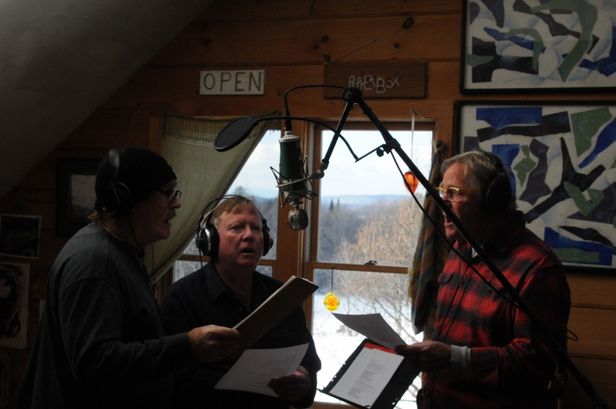 [Rick Davis, Lane Gibson, Jim Reiman]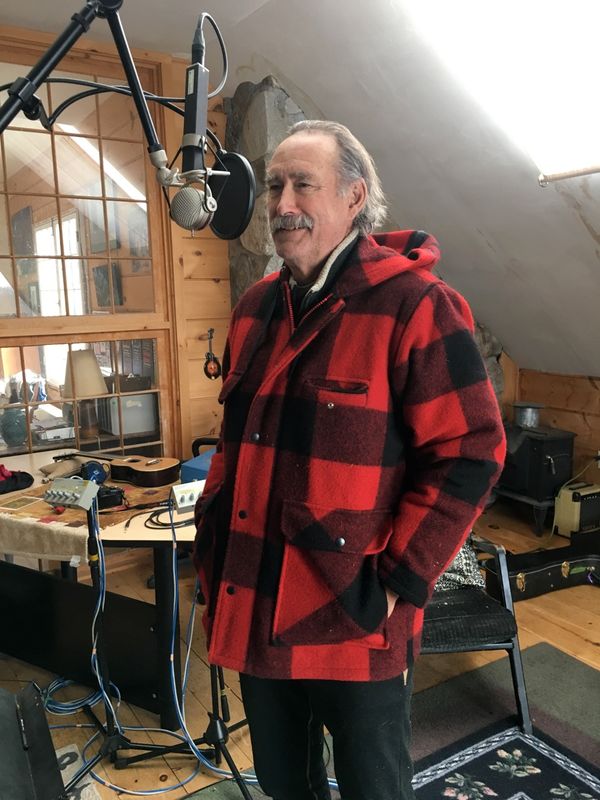 [Davey Davis]
It's not every day that a 7th generation Vermonter walks through the door with a huge catalog of music already produced in Vermont but the desire to try something different. That's where I come in. Davey heard some of the music we've produced here at Pepperbox and said to himself: "I want me some of that" (my words). Actually, the production goals around here are pretty simple: to make you sound like you sound, to the nth degree. It's a stripped down style, nothing too fancy but certainly tasteful, with nothing that takes you too far afield from your core sound. The baseline is what you bring, represented in it's best light. Davey has a powerful, elegant voice, that is supple and expressive. Our decision was to put that up front and get it right. His songwriting is mature, ranges from complex to iconic and there could be a million approaches to working with him. We're starting with careful attention to the acoustic guitar parts, since Davey writes his songs on guitar, and we're pushing the vocal quality to its highest place. That is a joint effort, with me as coach and Davey as an artist with high personal standards. After that, we can call on Davey's extensive musical network to enhance & support. Our session with Rick Davis, Lane Gibson and Jim Reiman doing backup vocals for Davey's song "Night Church", about a remote bar in New Brunswick CA, was a lot of fun. We're readying a Kickstarter campaign for this album project, so again: stay posted!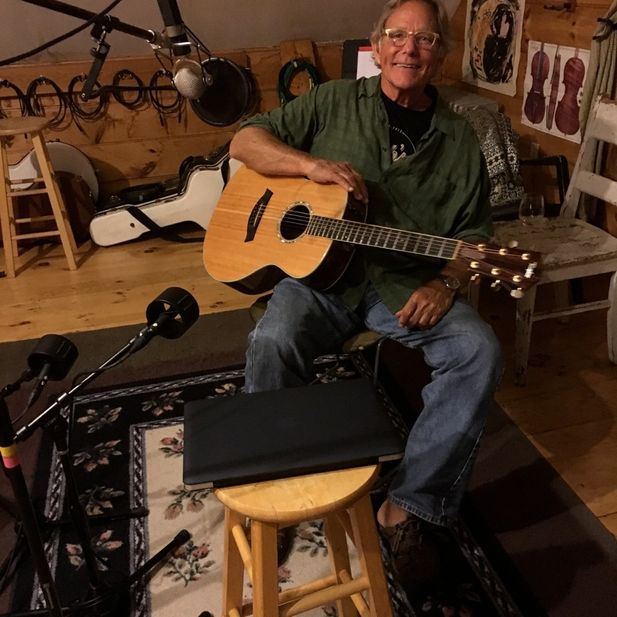 Sometimes artists fall through the cracks and don't get the recognition they deserve, because they've spent most of their musical career flying under the radar. Jim Reiman is a case in point. Once the owner/founder of a small record label, Rooster Records, a fire destroyed the business and many of the tapes. After this huge loss of a dream, he kept his own music going. Music fans in Central Vermont may be familiar with his down home guitar picking and gorgeous raspy vocals, but more likely they've been to any number of his restaurants: Prince & Pauper, Three Tomatoes, Centerra Grill, etc. I met Jim many years ago, hired to play at a music night he was hosting. I liked his affable style right away, and went on to play with him at a few parties and local events. Then we lost touch. Well, this year has been a renaissance of sorts, bringing many old friends to my studio, Jim among them. Our recording project has already yielded a gem, that to me exemplifies Jim's charm and style: a Roy Orbison cover, "She's a Mystery Girl". I can't wait to see where this goes!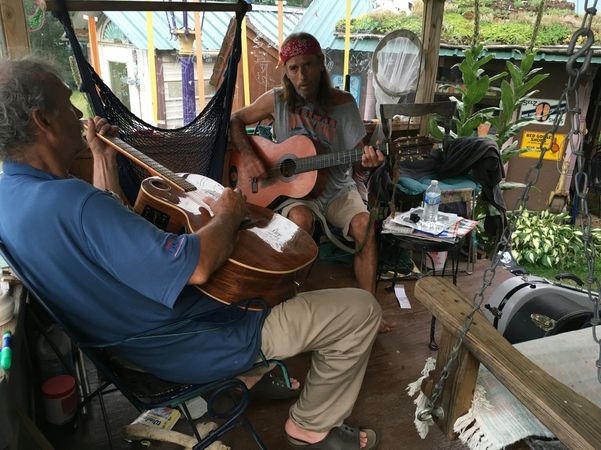 Eddie Russell is a veteran, troubadour and one-of-a-kind prolific songwriter. Currently living in Louisiana, he lost almost everything he owns in the 2016 flood. Maybe that's why he decided it was time to get moving and document his vast backlog of classic songs written over decades, dealing with topics such as cops, trout, your mom, motels, garage sales and love. His choice to come work at Pepperbox Studio was driven by a desire to get the best production, with the fewest bells and whistles. His music is funny, hard hitting, wise and ironic. This is going to be an blast! We start work next summer.