RIVER OF LIGHT: The Final Push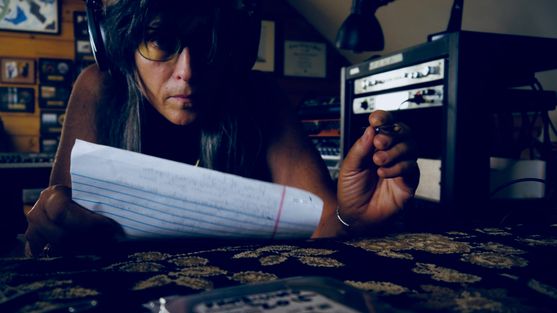 å
With all the things going on in my life this year, it was hard to imagine
how I'd ever find the time to finish my 7th solo album, "River of Light".
Here are the wonderful, amazing folks who made it happen. They not 
only played & sang, but co-created arrangements with me on the fly,
as we worked together in the studio and also long distance.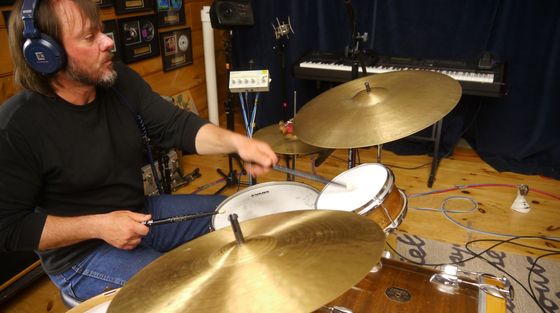 [Jeff Berlin]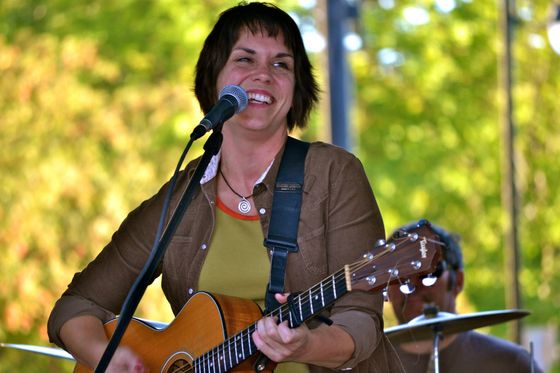 [Abby Jenne]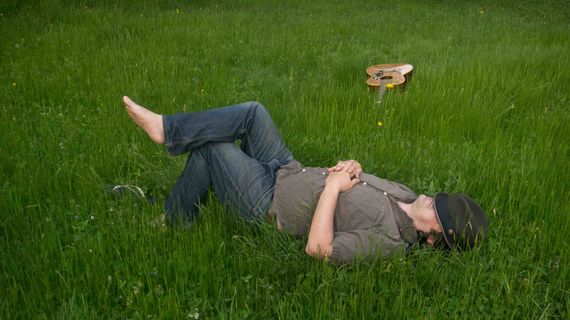 [Steve Mayone]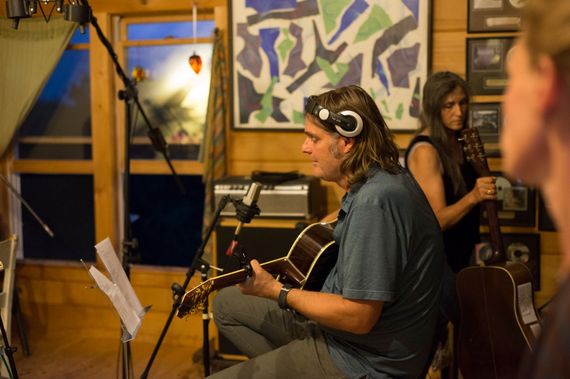 [Val McCallum]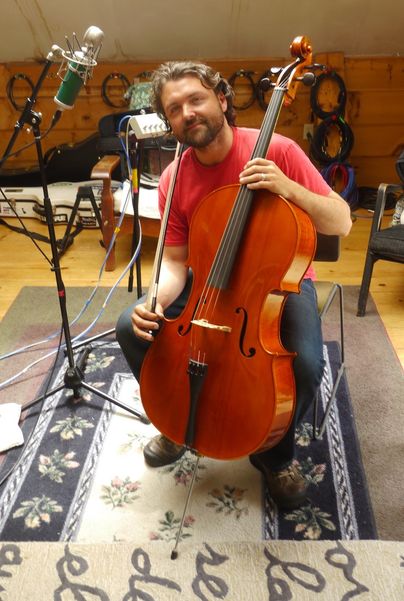 [Patrick Ross]
 So what's happening now? After several false starts, the "River of Light"
mixes have made their way to Avatar Studios in NYC, and are in good
hands with mastering engineer Fred Kevorkian. As of this writing, they
are scheduled to be done. This final stage of adding professional ears
and polish to my musical productions is both terrifying and a big relief.
He hears my mistakes as well as the good stuff. And he tells me. For
some reason, this album threw a lot of technical curve balls,
right at the end. I went through weeks of corrections, mostly small, but
in one case a total restructuring of a song was necessary. That's why I
try to work with the best people I can find. Getting things to this level is
not for the faint of heart.
HAUSNER, COANE & PITMAN: Old Time Country Done Right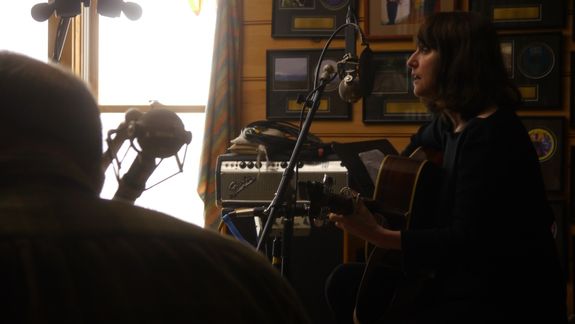 [Carol Hausner]
As part of my ongoing album project with Carol Hausner, I had the pleasure
of live recording her trio with Danny Coane [guitar & vocals] and Jim Pitman
[dobro]. What a fantastic sound, between the harmony singing and old time
picking! We're looking forward to bringing a few more of Vermont's local
luminaries into studio this winter, and I'm excited to hear Carol's vision
coming to fruition. Truly, this kind of hand-crafted record making is a labor
of love, and takes a lot of commitment to pull off! Thanks to all who contribute
their time and care to preserve this art form.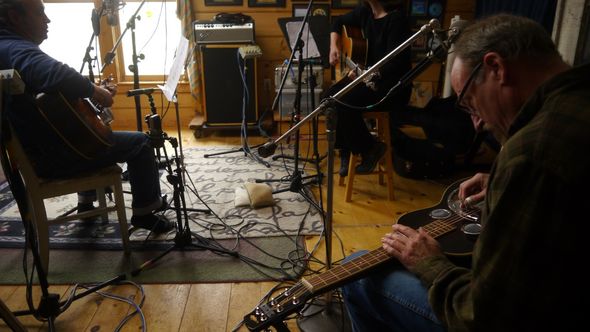 [Danny Coane, Carol Hausner, Jim Pitman]
THE ELUSIVE GIG: Continuing Adventures with Ariel & Others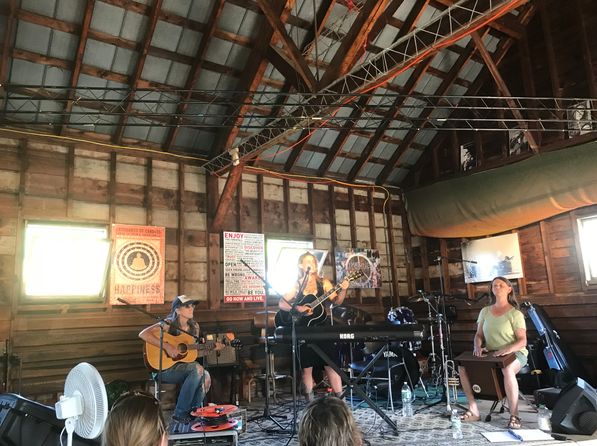 [Kristina Stykos, Ariel Zevon, Linda Warnaar - photo by Bow Thayer]
Check out Bob's Place, a.k.a. the old Windsor Farmer's Exchange!
It's at the end of Depot Ave., just across the tracks from Windsor Station.
Now I'd say it's the coolest, unknown venue in Vermont, but then again
I'm biased, since the guy who owns it and renovated it is my buddy, Bob
Haight. Bob is an architect, designer and all around amazing guy. This mini
festival occurred in July.
Now I often get asked if I gig. Kind of, sometimes, I do. It's less fun since
I've been struggling with vocal issues, but I never say never. Depends on
who wants me to do it, or pressures me to do it. And if the numerous hours
of rehearsal time & drive time can justify the cause. And if I can bring
something special to the table. I know what I'm good at, and what
I'm not good at.
So Ariel, Linda and I played this gig at Bob's Place, and before that,
in June, opened for Dar Williams at Chandler Music Hall. It's a joy to
play at the Chandler under any conditions; it's a great venue.
Other than that, I was asked to play at the campaign kick-off for John Obrien,
who is running for state rep from Tunbridge. Go John! It's not quite my voting
district but if you know my radio show, 11th Hour Radio , you'll know that
John's wife Emily is my co-host. It was a great night of playing until my
fingers froze .. because it was October & chilly in the barn but I was having too
much fun with fiddlers Steve Muise and Butch Howe, to notice!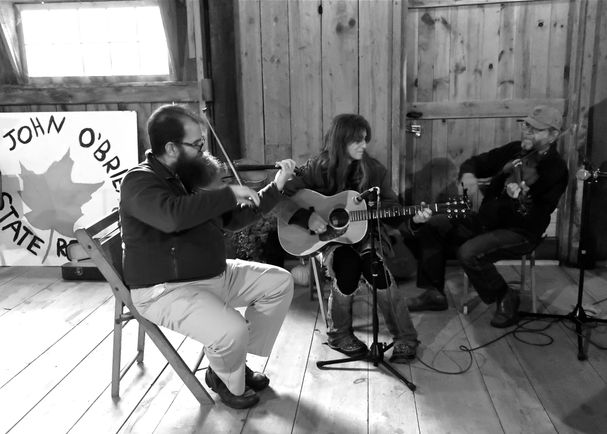 [Steve Muise, Kristina Stykos, Butch Howe]
NEW FROM ABRIAL: Songs That Make You Think A Little Off-Planet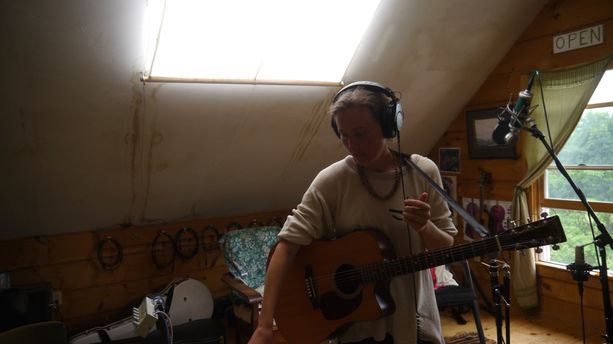 [Abrial; a.k.a. Caitlin Pomerantz]
After she recorded her album "Take Shelter" here at Pepperbox Studio in 2014,
I didn't see Caitlin for a while. I later heard her life took her to busk on
the streets of Nashville, then at some point back to Hawaii, and then on to
Indonesia. So I sure am glad that when she had a scant week or so back here
in Vermont, she wanted to nail down some new material - for us to develop
towards a new EP. Honestly, I won't be surprised one day, to see Caitlin standing
side-by-side future President Tulsi Gabbard, fielding questions as her press
secretary.  This is totally within the realm of possibility. However, in the meantime,
we have a few songs to get out!
LOST AT SEA: Ryan Clayton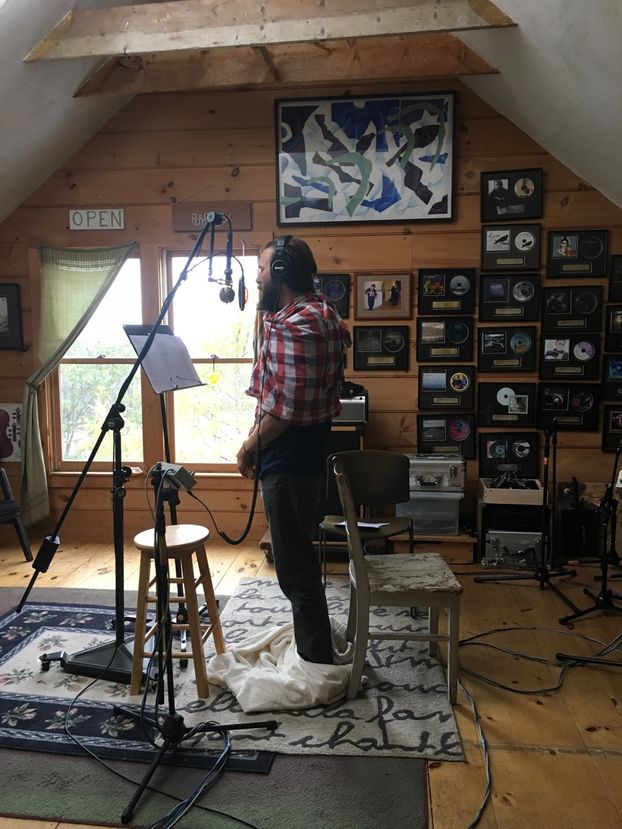 [Ryan Clayton]
Sometimes people come to the studio in unexpected ways, and I'd say Ryan
fits this description, although now I can clearly how the seed was planted,
that led us to this remarkable juncture. Ryan Clayton: political activist,  skilled
media commentator, troll-in-chief targeting Donald J. Trump literally from
the moment he was elected until Ryan's life was radically changed by PTSD, and
a near-death experience in the waters off Indonesia. You can read all about it
here. We met by chance a few years ago, when he randomly found my Airbnb
rooms-for-rent online. He didn't know at the time he was going to become a
songwriter.
Fast forward to this fall, when he arrived, sheaf of papers in hand and a plan for
action: not political this time, but musical. We worked a good, long 12 hour day
which included ideas coming via cell phone from his brother Chad, to complete
a song about healing and emotional safety. For his first time singing in front of a
microphone, the results were amazing. Stay posted!
BONES OF THE HEART: A New Album on the Horizon from Davey Davis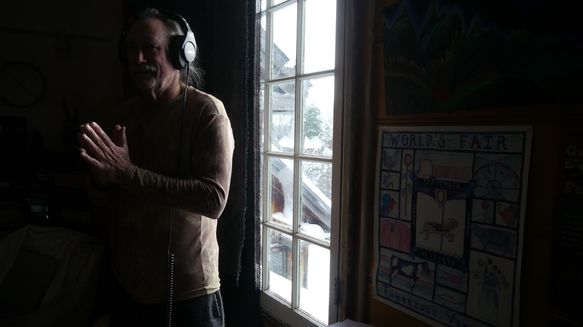 [Davey Davis]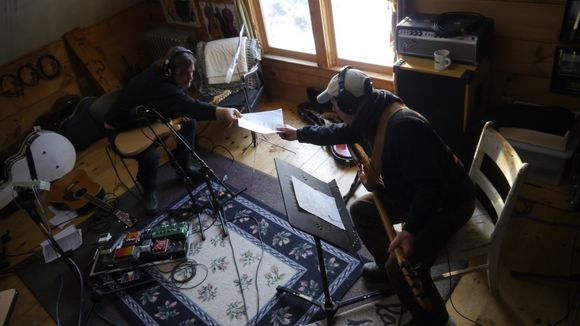 [Val McCallum, Pooh Sprague]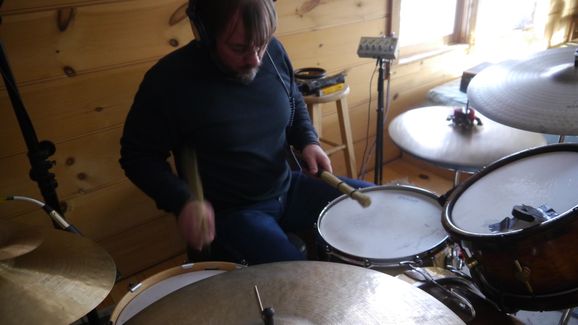 [Jeff Berlin]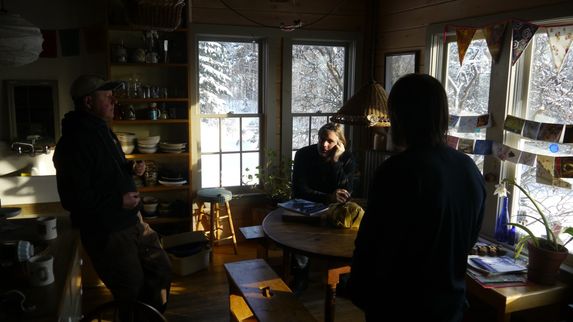 [Pooh Sprague, Val McCallum, Jeff Berlin]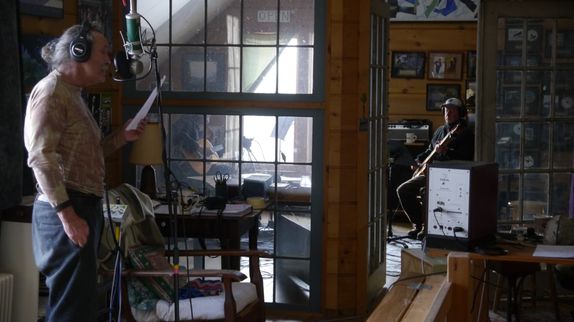 [Davey Davis, Val McCallum, Pooh Sprague]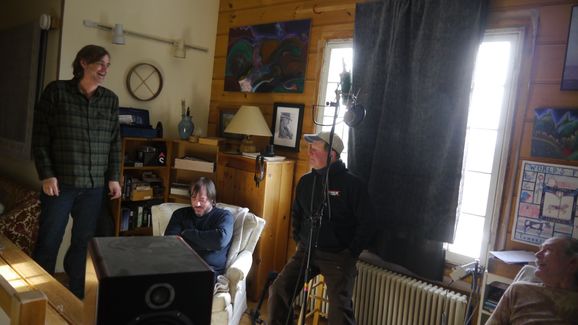 [Val McCallum, Jeff Berlin, Pooh Sprague, Davey Davis]
Pictures often tell the best story, and here you see another epic gathering
of the clan, live tracking with Davey Davis [vocals], Val McCallum [guitars],
Pooh Sprague [bass] and Jeff Berlin [drums]. We tracked four songs that day
that were downright funky and fun! An additional day was added with drummer
Jeffrey Yurek of Claremont, NH to track a few more.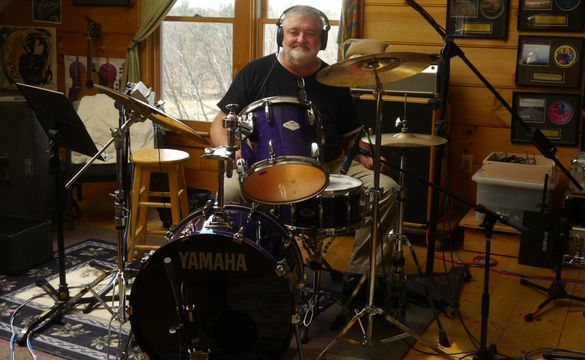 [Jeffrey Yurek]
I can't wait to get current with work on this record, so y'all can hear it! Davey's
new album, "Bones of the Heart" is almost completely tracked, waiting for "yours
truly" to get back to it, add a few parts and put it all together. Stay posted!
TWO DOLLAR WOMAN: Singer-Songwriter Ben Reed's Album is Here!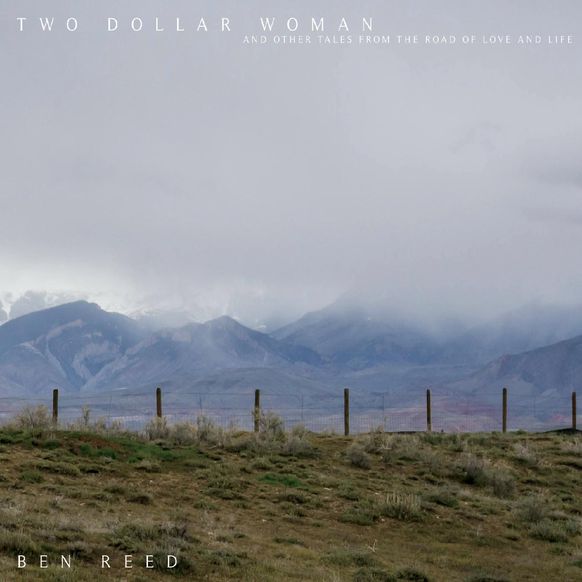 Nothing makes me happier than to finish an album and be able to post the
beautiful album artwork here. Congratulations to Thunder Ridge Records'
recording artist Ben Reed of Billings, MT!!! - for all his hard work and creativity
which has resulted in this unique album of cowboy songs, poignant love songs,
songs about life and ... a song about Jim Morrison of the Doors!! A thrill
to produce thanks to Ben's concept & Patrick Ross's magnificent string work!
The album includes a gorgeous 16 page booklet and many of Ben's stunning
photographs of wildlife and landscapes in and around his home out west.
You can buy his album here.