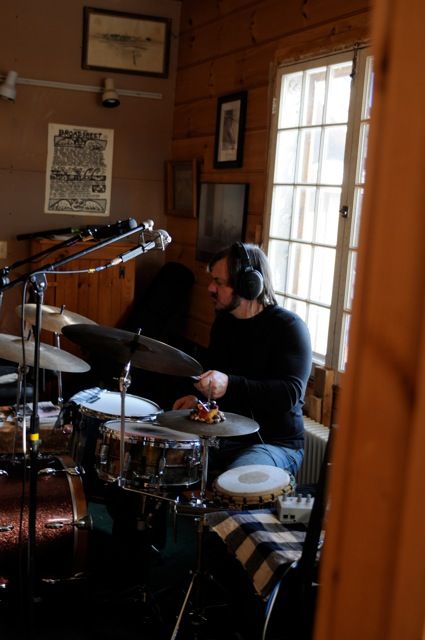 [Jeff Berlin]
I have a small cadre of "go-to" drummers whom I love, admire and hire. There's Charlie, who's an old junior high school buddy - I grew up with him in Ithaca, NY. and watched him hone his craft and attain some lofty goals, such as playing with great bands like Orleans and Samite. He and I have a pretty special bond, so working with him is like family. There's creative space to learn, and experiment, and come up with amazing arrangements with Charlie. And even though he lives outside Vermont, I look for opportunities to work with him. I feel blessed. Then there's Jeff. He's what you might call my local guy. I've played onstage with Jeff, as part of the Bow Thayer band and the Cousins Project, and he knows how to hold it down and while ratcheting it up. There's a swampy thing he does that fits my melancholy songwriting and I spend time with him every year, building tracks for my new songs. I know the wild river at the juncture of his road and that highway that fell into it during Hurricane Irene. We share a kind of isolationist-musician philosophy, that doesn't compromise to impress someone in the music industry. We work at our day jobs proudly, work hard and stay centered on our musical integrity. We don't play stuff we're not into. So when he comes up to the Pepperbox, we indulge in the sheer joy of discovery, and do good shit. He was up this week, and it happened again.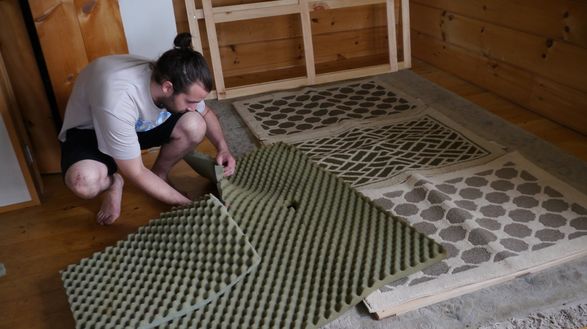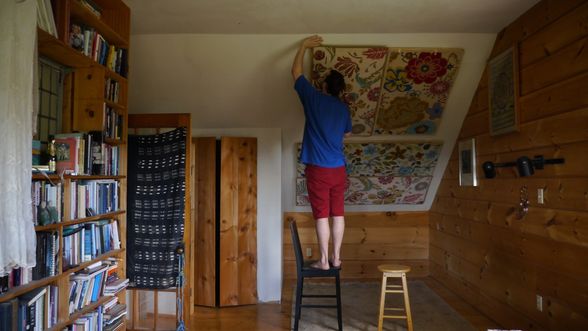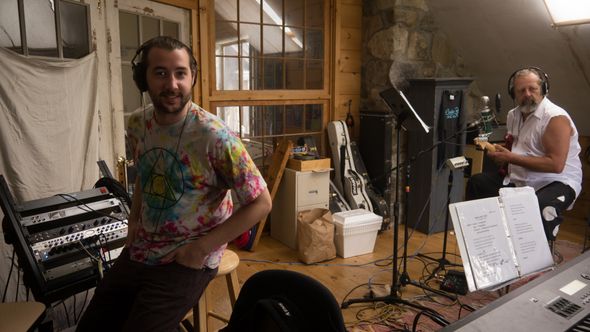 [JP Lahens]
How did I ever run a recording studio without an intern? His name is John [JP] Lahens, and he comes to me via the Music and Audio Engineering Departments at Lyndon State College, and the networking genius of instructor Tim Mikovitz. JP's been working at Pepperbox Studio once or twice a week since June, bringing his solid common sense and brain power to many projects, including captioning music video, preparing audio cues for future licensing, building acoustical treatment panels for the studio ceiling, and assisting during recording sessions. For something that initially fell in my lap, this collaboration has far exceeded my expectations! I will be sorry to see him go in the fall, when school starts up again. To check out JP's music, click here.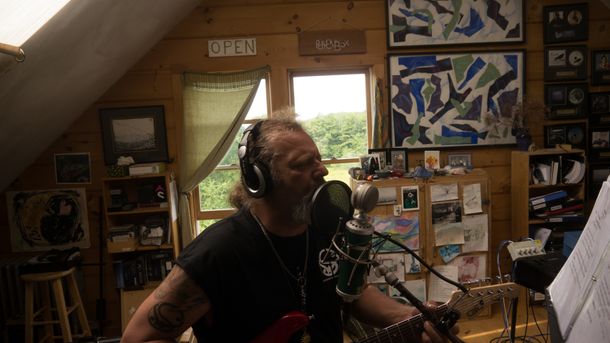 [steve wentworth/steve wentworth band]
This band came to me with a bunch of rehearsal tapes for me to listen to and said - Can you help us make a record? Of course I said: Yes. And so for the last few months now I've been upgrading some of my systems to prepare for this primarily live recording, with the key goal of improving the functionality of my studio headphone monitoring to accommodate a band of their size [five members].  Truth be told, up to this point, I'd been working around (and basically avoiding) the software "console" that came with my new Apollo interface, purchased last year, thinking I could get away with it as long as I pretended not to notice the latency issues. Well … no. A day of reckoning was inevitable.
I admit my philosophy in the studio has always been similar to the one that keeps me from cleaning the house until company is coming. I don't generally learn the deeper levels of my gear: unless I have to.  Remember … I'm a musician? Recording engineering did not come so naturally as playing a guitar. I've had to work hard and sweat a lot to understand the technical side of music production. 
So it's been an intense period of researching manuals and YouTube videos, mining tech support and throwing in my lot with pre-session trouble-shooting via trial and error. JP and I went through every cable in the studio, moved furniture, took stock of our new stage box ("snake") and generally checked and rechecked ever piece of equipment that might have the propensity to malfunction. I settled in for hours of head-scratching, as I set up the new virtual console to route signal to the Furman headphone distribution boxes. In the end: we did it! Our session with the Steve Wentworth Band went off without too many hitches, and I'm now super excited to be mixing and over-dubbing, and continuing my work with this great bunch of guys: Steve Wentworth, John Doyle, Jimmy Goodwin, Chad Preston and Tom Vinelli.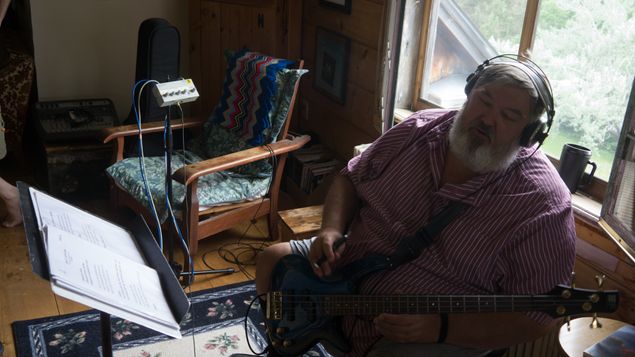 [John Doyle]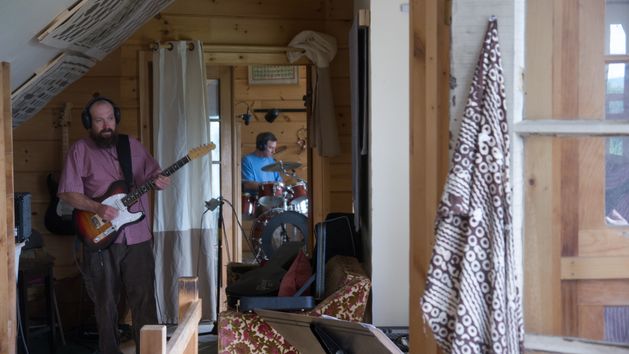 [Jimmy Goodwin/Chad Preston]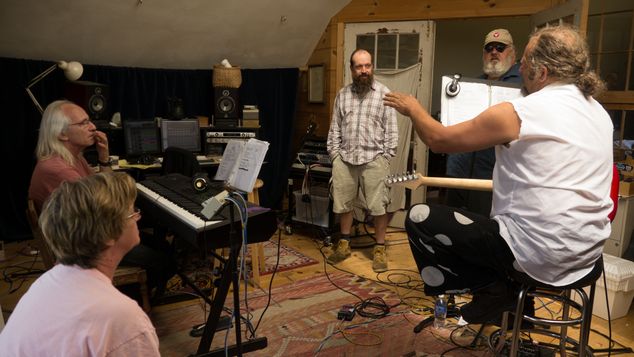 [Tom Vinelli/Pam Doyle/Jimmy Goodwin/John Doyle/Steve Wentworth]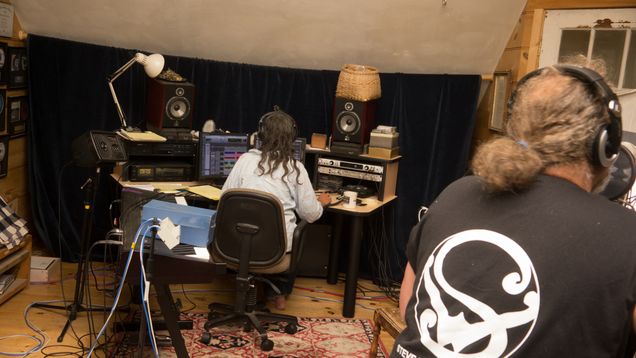 [Kristina Stykos/Steve Wentworth]
---------------------------------------
And now for something completely different. I've had the pleasure of starting off 2014 with Doug Perkins back in the studio, recording some new compositions for solo guitar. There's nothing sweeter than a couple of Neumann KM184s and this jazz/grass/celtic/classical styled acoustic master, situated in front of them. He's been incredibly busy with performances throughout the spring and summer, and his chops are on. And for being a guy who carries a chain saw with him everywhere he goes, his hands have the grace of gazelles crossing the Serengeti.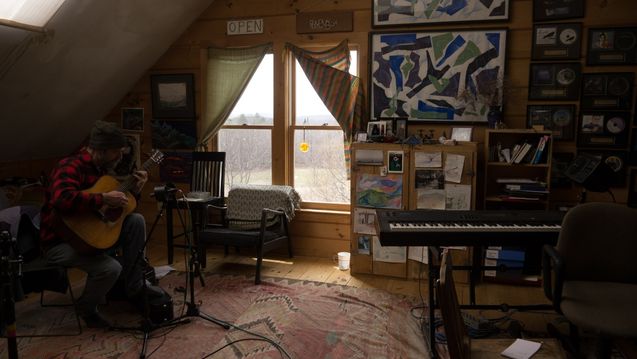 [Doug Perkins]
------------------------------------
I love Lizzy Mandell, and her musical expression is exquisite. Part sisters separated at birth, part mutual-admiration-society members, we have found more ways than one to have fun and go deep in the studio with Lizzy. She's back with some new songs, and I have my fingers crossed. If I do my job well, we might just come out the other end of this with a new Lizzy Mandell album! But don't let me jinx it. There's a lot of work between here and there. Let's get started. Her song "Desert Song" gave me a chance to stretch my wings as a producer. With the addition of a funked-up drum part from Jeff Berlin, let's see where this whole thing goes!