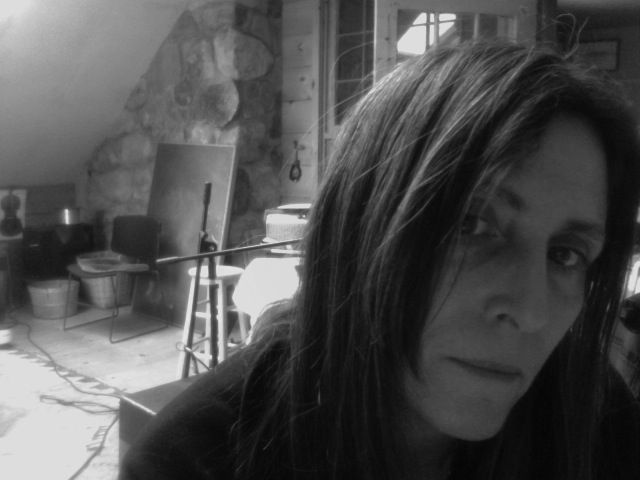 The biggest news is my successful Kickstarter fundraising campaign; we raised $3,776 to support the production & mastering costs of "Wyoming Territory", my new solo CD! Thank you again, to everyone of 69 people who joined with me to get this done. It has been a great experience to know that people are paying attention to what I do and want to help. I can't wait to share this disk! It was a real step-up for me to produce it, from start to finish, do all the engineering and to introduce more of my electric guitar playing. Of course there is plenty of acoustic guitar on the album, featuring an array of Froggy Bottom Guitars, made by my husband Michael and his crew here in Vermont. And singing - stylistically I'm leaning a little more towards rock and roll - and my voice feels at home there.
For 2013 I'm looking at making a serious leap into video and developing a YouTube presence. I've started on that journey, very low-tech, using my own technology and limited know-how. Putting myself on the silver screen was a pre-requisite for my Kickstarter campaign and the process posed many questions to me about artifice vs. reality … a perennial question for any artist. In the end, I decided to plunge in exactly where I was – in my kitchen, my living room, my studio - and so you'll see some pretty raw, unedited imagery of me playing guitar. I made no attempt to record it "well". I know if I'd added that overlay of complexity to the project, I'd have gotten stopped in my tracks. Check out the home movies:
So it was a start, and with that little bit of momentum, I plan to start brainstorming my way into a higher level of image collage, to go with my music. And since the current model of "music videos" is so abhorrent to me, I'll look for an approach to it that satisfies my intelligence and creativity. Stay posted!
Just before my Kickstarter campaign met its deadline, I was invited by WGDR radio DJ Alex Thayer to join her show on Dec 23 – we had a great talk about my music and issues surrounded the making of music. I'm going to be posting it as an mp3 somewhere soon. Check out her show: Spirit and Song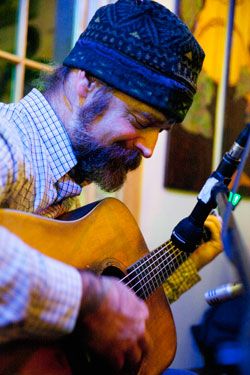 photo of Doug Perkins by Matthew Thorsen
Dec. 8 was the CD release party for Doug Perkins "Music for Flat-top Guitar" which I recorded here at Pepperbox Studio – we all rode up the big town of Burlington VT #BVT and had a hell of a party at the Skinny Pancake down on Burlington's waterfront. This celebration included musicians Jamie Masefield, Tyler Bolles, Patrick Ross (who played on the album) and Adam Frehm, and who joined him onstage for some wicked good jazzgrass … I sat in for a few celtic tunes … but mostly ran the sound board … yes, a rather thankless job! It was great to see our friends come out for this, along with a lot of other folks: Congratulations, Doug! His album won "Best Instrumental Album of the Year" from the Times Argus .. I'm proud to have worked on it with Doug and to have it on my record label, Thunder Ridge Records.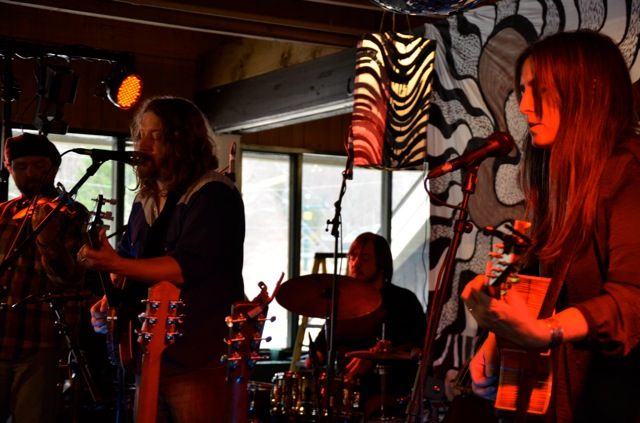 photo by Julie James of the Holy Plow at Winter Tweed Festival 2012
Dec. 14 I sat in down at Tupelo Music Hall playing some songs with Bow Thayer, along with Jeff Berlin and Patrick Ross - a pretty rockin' show - I believe there were a few people up on tables at one point – and of course its always my pleasure to play with these guys, who all play on my new album, "Wyoming Territory". The noise to music ratio was a little stiff and I couldn't hear myself, I confess, at every moment onstage, but sometimes that's not the point. It's about surfing the energy.
I'll be teaching a course this winter called "Recording Basics for Women" at the Summit School of Traditional Music and Culture in Montpelier, VT. The semester starts Wednesday Jan 30. Here is the blurb:
"Recording is a great way to explore your own musical ideas, or help others to do so. Yet there are still blocks, real and imagined, that we as women encounter when approaching music technology. This is a class for women who would like to move past fears and doubts, and develop or improve their engineering skills. There is no better time than now to take charge of your own creative process! For the most benefit, you should come prepared with a laptop computer and some type of recording software. For musicians, and non-musicians."
At Pepperbox Studio, I'm back at work again with clients including Julie James, whose album "Mirror's Glance" I produced in 2011, and with new clients Abrial of Hawaii and Ben Reed of Billings, Montana. I feel so much joy and gratitude for these opportunities to support and influence the creativity of others, and these folks are about as nice as they come, each with special talents and gifts. Thank you, universe!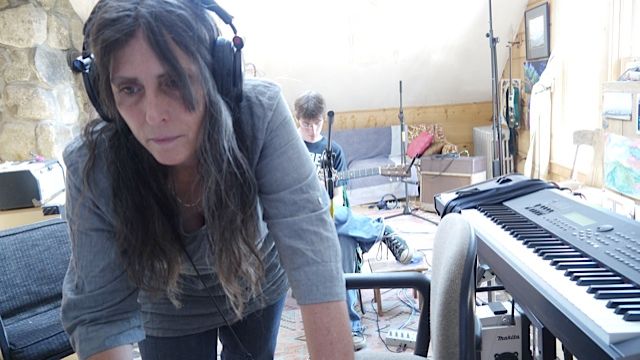 photo by Julie James at Pepperbox Studio
A couple unique social events highlighted the end of the year as well, the first being a concert put on by Next Stage Arts of Putney, VT: "Music from Froggy Bottom: Three Guitarists Meet Their Maker" - featuring guitarists Will Ackerman, Scott Ainslie and David Surette For those who don't know, this was an event to honor my husband Michael Millard and his lifetime of dedication to guitar building! Here is what the show was all about, quoting from their website:
"In a benefit performance for the Next Stage Arts Project, on November 30th, at 7:30 PM, three renowned guitarists – each playing in a their own distinct style – will enter into a dialogue in music and words with the guitar maker who built the instruments that play such a critical role in how and what they say as musicians. Michael Millard has been building Froggy Bottom Guitars for over 40 years. He has personally built more than 5,000 guitars, many of them custom-built for particular players. His award-winning instruments are played by some of the world's most discerning guitarists.
In this presentation, Will Ackermann, Scott Ainslie, and David Surette will all perform and speak with Michael and the audience about his guitars, his unique approach to building, and his take on the art and craftsmanship of guitar building.
Michael says, "I realize that what I do is important to some people, including myself, and I think I have a realistic sense of how well I have done it. I saw from the very beginning, that I wanted to make a guitar for an individual. I wanted to make more variety in response to people, real people."
What can I say? It was a wonderful gathering of people who have know Michael from far and wide … and the conversation hosted by Lisa McCormick onstage with Michael and these players was beautiful and revealing. And then there was the music … wow! I was lucky enough at the "after-party" to end up in a late night jam session with Scott, David and Patrick Ross. Yikes! Dreams do come true.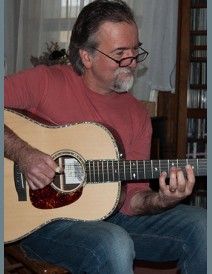 Guitarist David Surette
The other social event was the Dec. 19 Froggy Bottom Guitars Christmas party. We got off our lazy bums and hosted the whole gang over at our place, providing corn chowder, vegetarian chili (I cooked) and much to drink. Despite the fact that I came down with stomach flu that night, I had a great time! I fell asleep to another late night jam session, and that was just about perfect.