A NEW YEAR: Wrapping Up 2019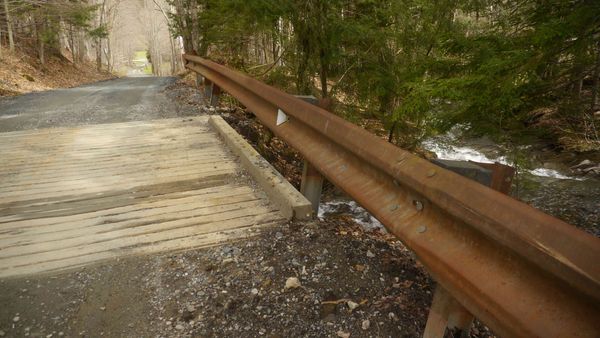 I can't believe it's been a year since I last posted any "News", but that should tell you a lot about how 2019 went. It did not let up much, on all fronts. I took on some extra outdoor jobs, doing my Gardenessa gig and had to contend with the insect population (ticks) to the extent that it overshadowed my life and became a war to stay healthy. Anyway, I made it through, & produced lots of music in the studio, despite struggles out in the field. And - I finished my first book of poetry.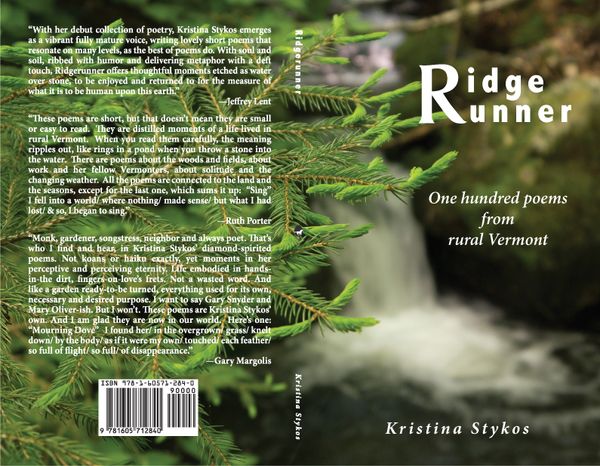 RIDGERUNNER: Poems, lyrics ... how different are they?
Very! A poem floats in space, on a blank page, not anchored by music. This project started with a grant application I made to the Vermont Community Foundation, back in 2017, and I times, i thought I'd never finish. I had to get an extension for another year, ostensibly because I arbitrarily picked "100 poems" as my goal - and that's a lot of poems! Finally, after many manuscript revisions and book design issues,  we have a book!
You can order it online here or if you prefer, get it directly from me.  This paperback edition (featured above) is perfectly affordable at $15;  whereas the fancier hardcover, with full color photos to match each of my 100 poems, is more pricey - and can be pre-ordered here.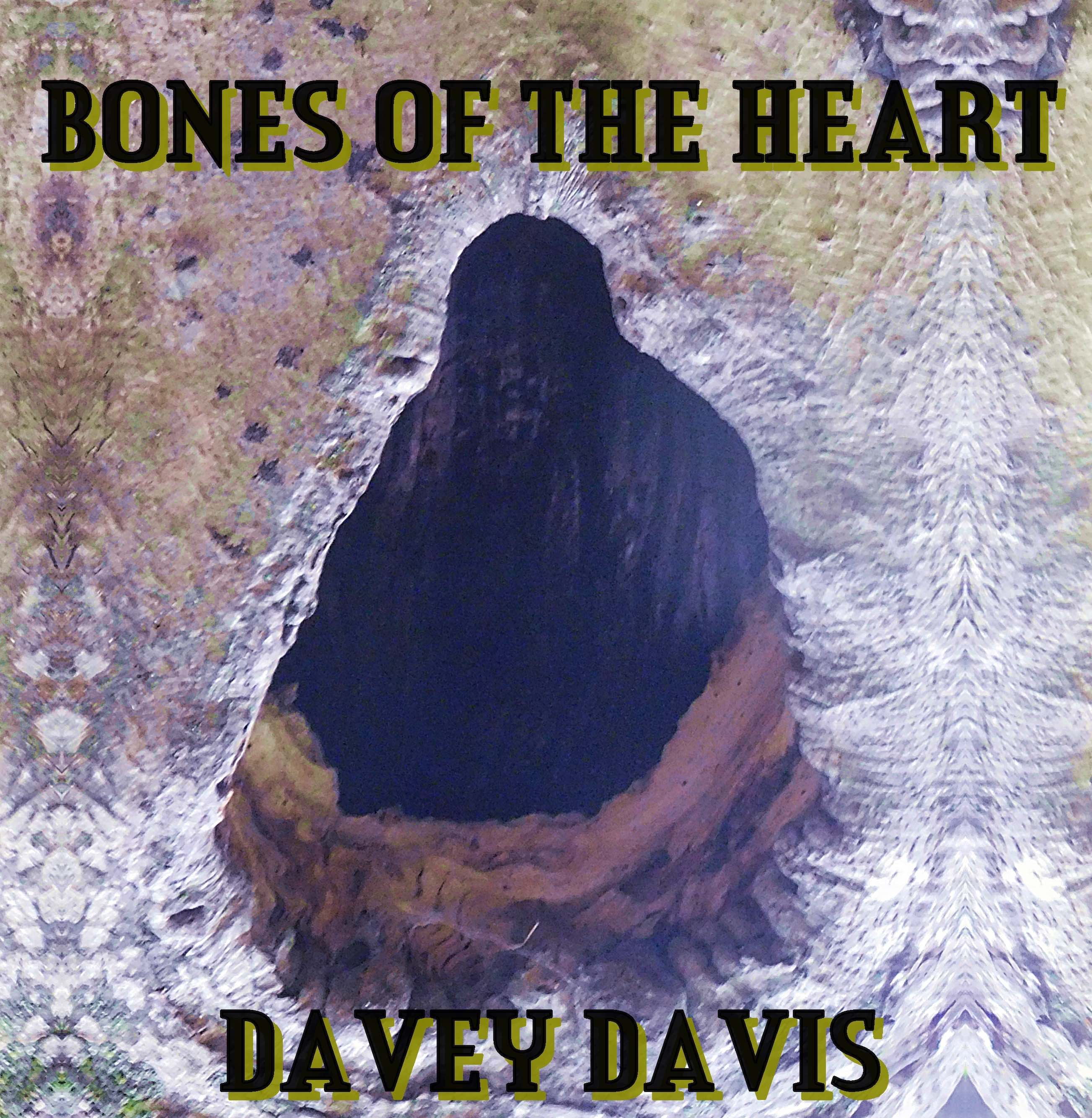 BONES OF THE HEART: Uplifting, humorous .... and quintessential Davey!
This record came out on the Thunder Ridge label last summer, just in time for Davey to take physical copies with him to California where he had an art exhibition featuring his amazing photography. As with all major projects, we called in the troops to help us put finishing touches on & those highlights make this album a lot of fun. For example, harp player Pete Meijer did some great playing!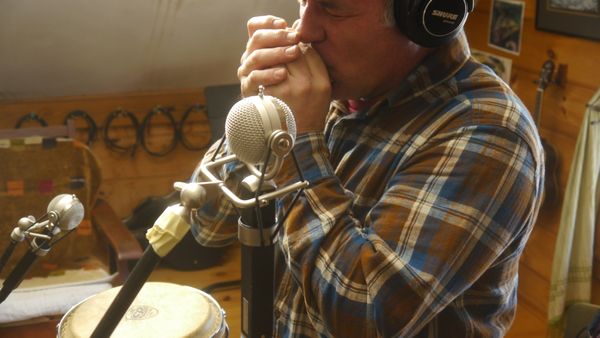 [Pete Meijer]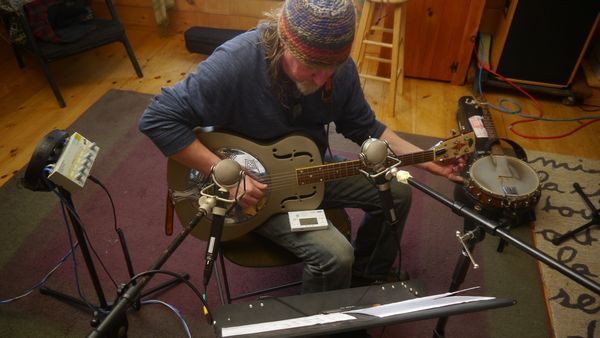 [Bow Thayer]
And Bow Thayer, ditto, playing - whatever that thing is ... a steel guitar!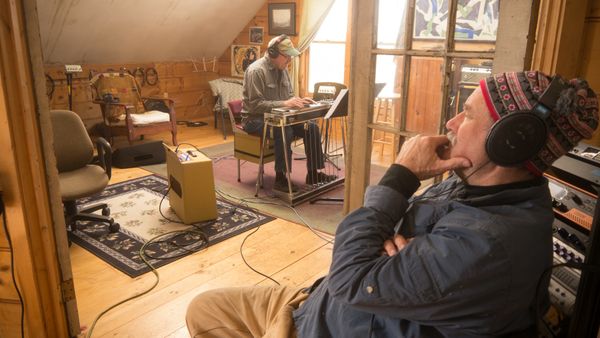 [Jim Pitman; Davey Davis]
And pedal steel player extraordinaire, Jim Pitman, always a pleasure to work with Jim!  You can listen to or buy Davey's album here, he's undoubtedly one of Vermont's most original songwriters - and a damn good singer! I've never heard a voice like his, rich and expressive, and totally without pretension.
As I was producing  this album, I ended up playing on it, and one of my favorite tracks and one that I'm super proud of, is "Ghost of the Chateauguay" which is loosely based on local history & things that happened a long time ago in the towns of Bridgewater and Barnard, Vermont. Davey's a woods rambler and deer hunter from since he was a kid, so his grasp on rural ways is authentic. We've posted it up here for you to listen, on Soundcloud.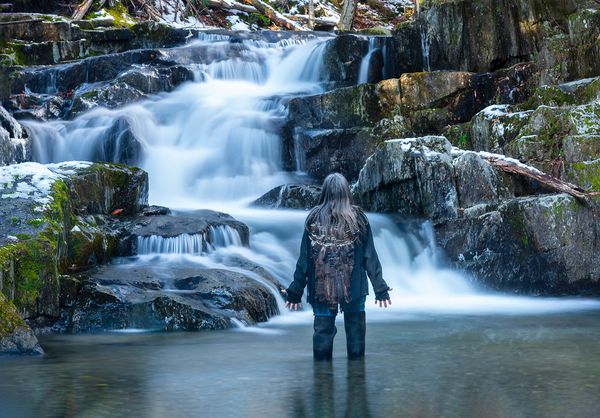 [Kristina Stykos; photo by Jack Rowell]
RIVER OF LIGHT: A new solo album from Kristina .. that's me!
Yes, my new album is out and it was just designated the #2 in the County Tracks "Best Vermont Albums of 2019". That sure was a lot of work! I'm kicking back a little, which means I'm gearing up to start on a few more albums that are personal to me, including a new Cousins Project album, a new Ariel Zevon album and an instrumental album, featuring my acoustic guitar work. You can hear/buy tracks from the album in the Music section of this website.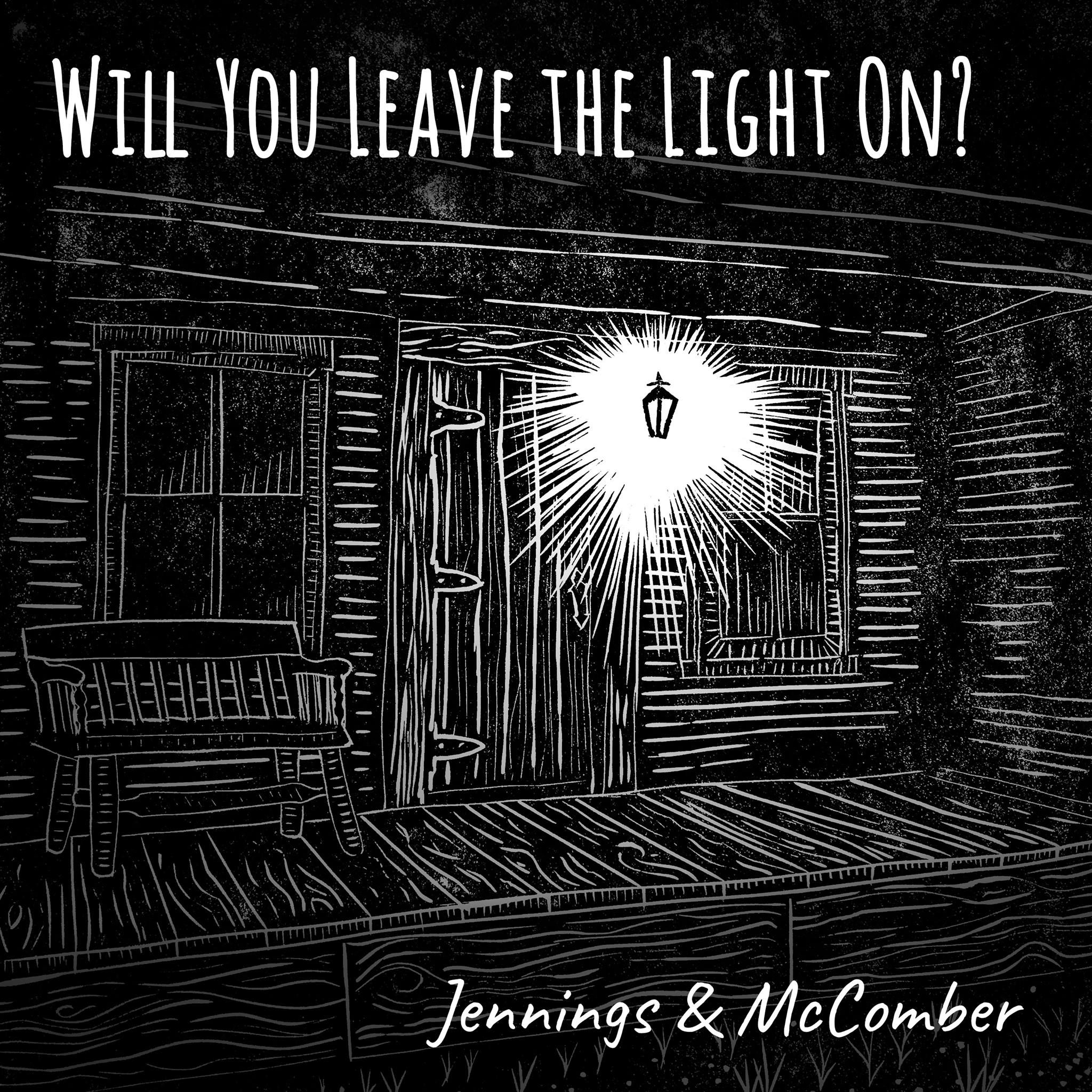 SONGS FROM A DYNAMIC DUO: Kara and Andy Lake release their new album!
I'm happy to announce that we had so much fun making this album, that we almost didn't want the process to end. But you have to end it, to put out an album. And so we did. But looking back, I treasure so much about working with Kara and Andy, who go by the stage name: Jennings and McComber. Best of luck to them!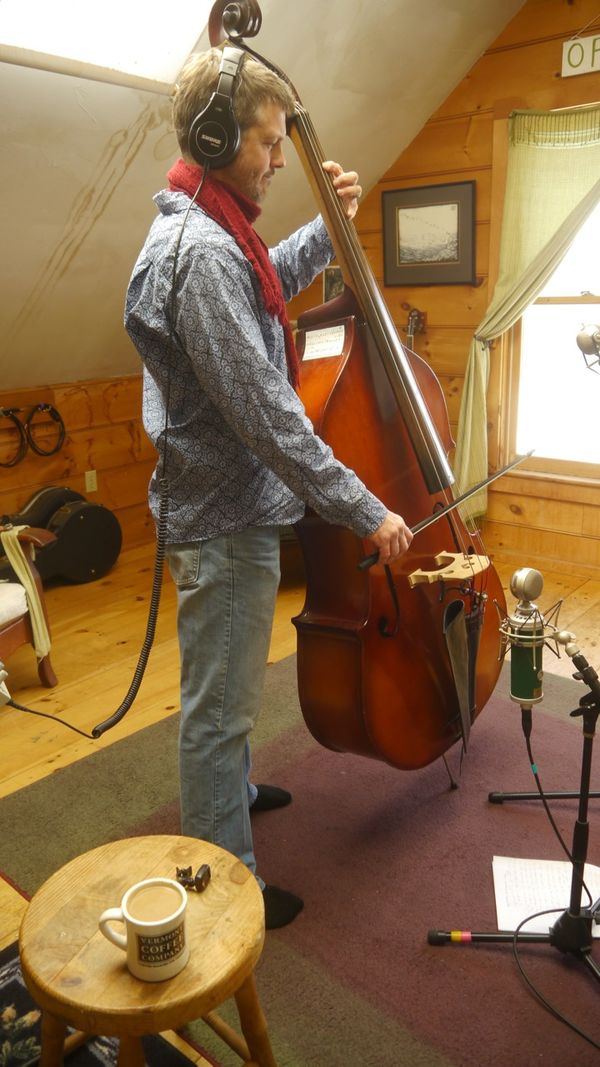 [Andy Lake]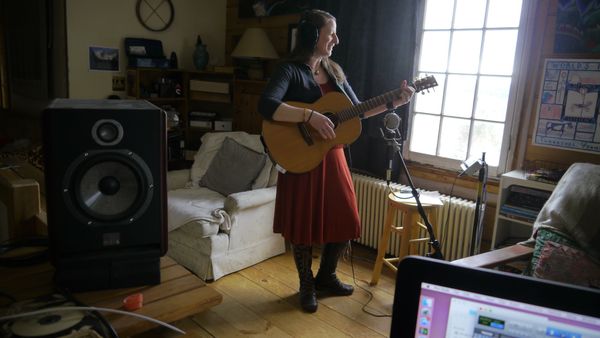 [Kara Lake]
VIDEO: In support of Val McCallum's new album "Chateauguay"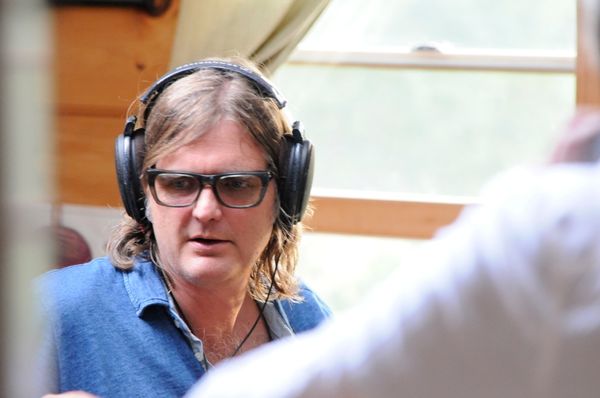 [Val McCallum]
Val is a regular here at Pepperbox Studio, and contributed a lot of amazing guitar, bass and vocal parts for my new album, River of Light. So I jumped at the opportunity to do something in support of his new album, Chateauguay, coming out at about the same time.
In 2019, I put these videos together for Val McCallum. Check it out! His songs tell poignant stories to tell, and the photos he gave me to work with brought tears to my eyes, every time.
[Charlie's Coal & Brothers}
BACK FROM BLUE HILL, MAINE: Ben Pfohl, guitar ace, raconteur & humorist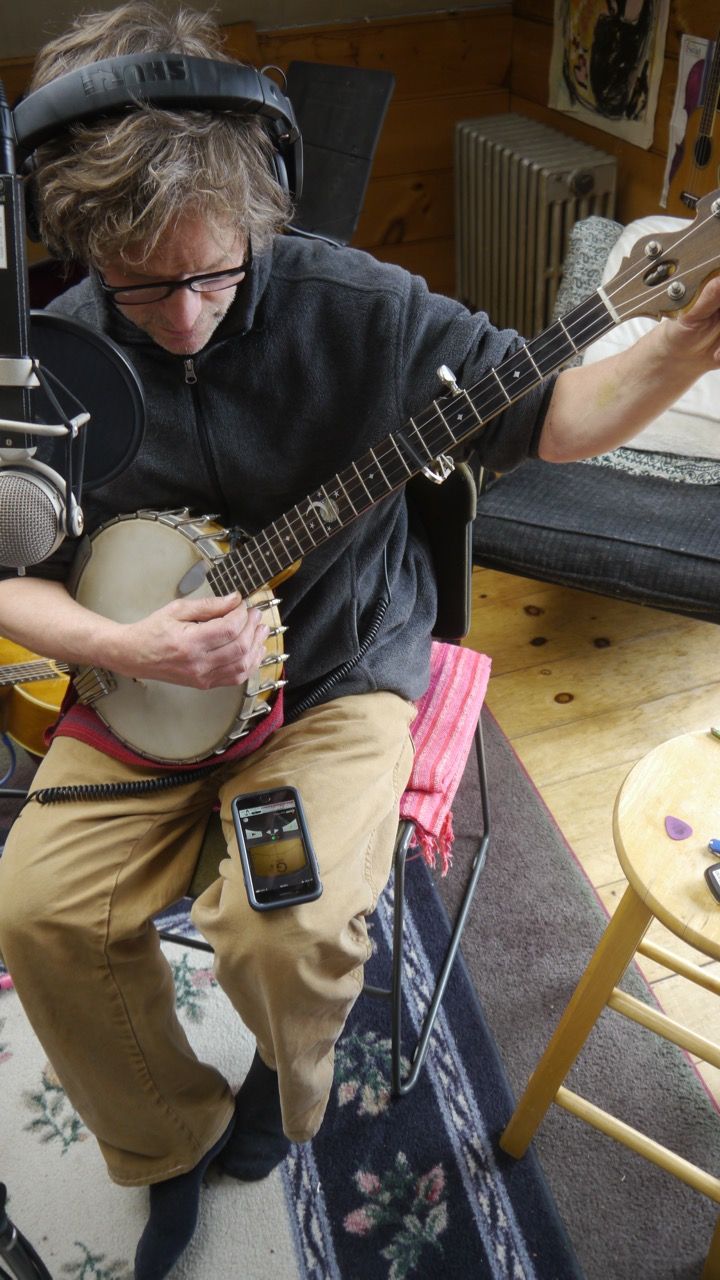 [Ben Pfohl]
Living an international life in three countries, songwriter & performer Ben Pfohl managed to spend enough time in Vermont this last year to almost finish his upcoming album; surprisingly his first official, full-length recording! Despite exercising virtuosic proficiency on his instruments, and a well honed, articulate songcraft, Ben has successfully avoided being caught "in perpetuity" - but 2020 will change that, I'm happy to report!
As part of Ben's project, the studio was also graced with visits and contributions in 2019 from bassist Pat Melvin, pianist Henry Finch, and Sarah Rosenbaum, Ben's partner, a talented singer. We expect to be finishing up this album in 2020, with a little more help from our friends, adding more bass & some drums to the mix. Can't wait to wrap and share this with the world! Ben is a great songwriter, and this is going to be a popular album.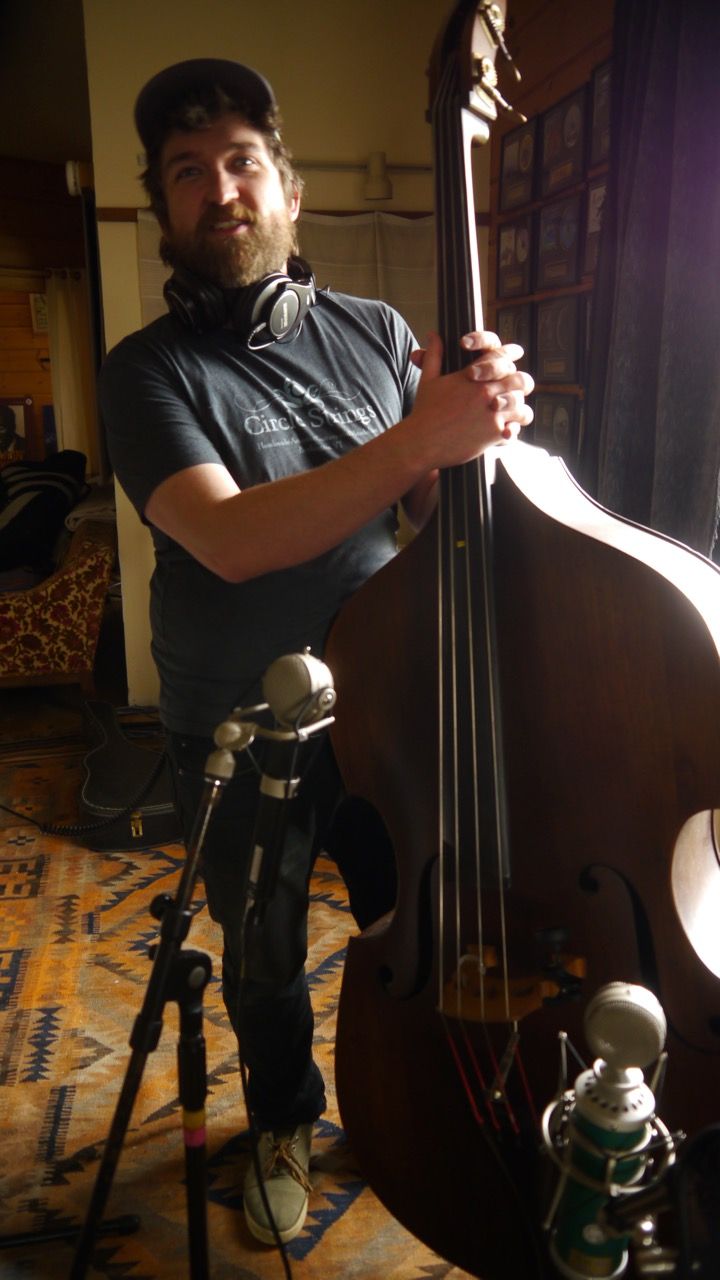 [Pat Melvin]
POETS, MUSICIANS & THE BEST VIBE AROUND: Los Lorcas
These guys won me over, not that I need to be won over, but it's always nice to feel immediately at home in the company of strangers. Actually, I had met Patridge (Buzz) Boswell in his alternate incarnation as director of the Lebanon NH Opera House years ago, when I hung around there as a performer, presenter and all around back-stage groupie. Since those days gone by, we have both done a lot of growing and changing, so it was almost like meeting him for the first time - and we have way more in common now than I ever suspected we could.
Enter Peter Money and Nat Williams, two heart-centric, brilliant creatives, to round out the band. Using mostly their own entirely stunning poetry, and a few stolen lyrics from other poets, they weave songs that are sometimes spoken, sometimes sung. I could not wait to get into the mixing process, to spend more time listening to what they had to say. We'll be finishing up these pieces to release an album this month, and the result should be stellar.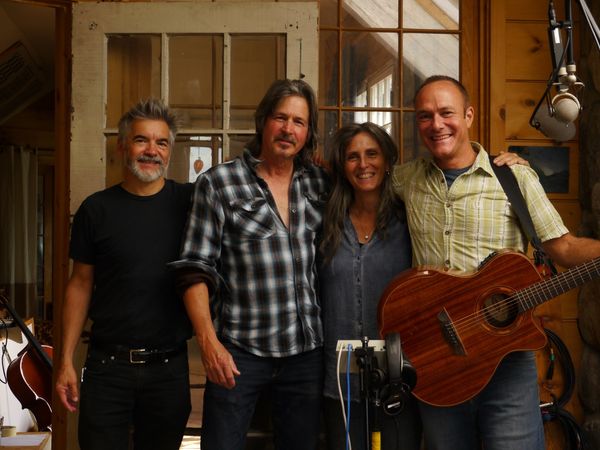 [Peter Money, Nat Williams, Kristina Stykos, Patridge Boswell]
OLD FRIENDS: The celtic guitars of Pam Bockes & Leed Brewer
These two musical associates have been plying their finger-picking trades for many years in the Montpelier area, playing coffee houses, wineries, parties & special events and it was a treat to finally catch up with them, and see how their sound has evolved. Wow! The interplay and flow of these two gorgeous guitars being played in tandem utilizing a tasteful, lyrical repertoire, leaves us enchanted. Theirs is not easy material to master, and they support each other with such grace and good humor, I can't imagine a better pairing! We rushed this collection of 11 tunes into production for holiday dispersal, but not without first taking time to balance and add fairy dust. It went out the door with a smile and a nod ... as I imagined all their happy friends receiving such a fine gift!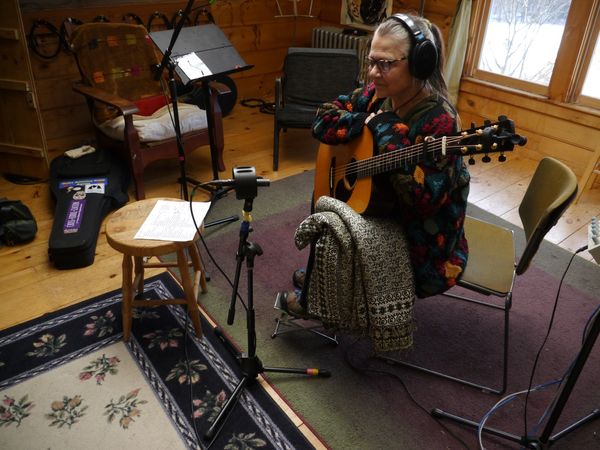 [Pam Bockes]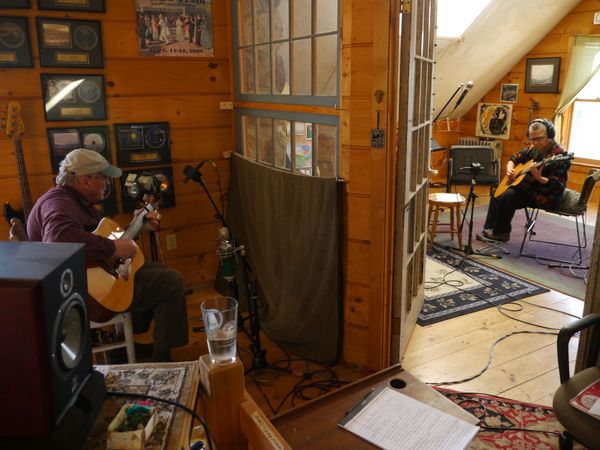 [Leeds Brewer, Pam Bockes]