From the Producers Desk: Meeting our Funding Goal
It's true, we reached out Kickstarter goal of $5,000 and
are now moving into the final stages of recording and mixing
Ariel's album, The Detangler. To those who donated, we can't
thank you enough for your support and kind words. The
process of making contact with people who care about our
music is essential to keeping our spirits high and our creativity
flowing. Nourishment of all types is necessary to make it through
something as hard as making a record.I guess that's why Ariel
never walks into Pepperbox Studio without baskets of things
like fresh goat milk chevre, raw honey and fresh baked macaroons.
We try to stay healthy and keep our lives balanced, while staying
true to the music that wants to be made.

Thanks to some of our favorite session players: drummer
Matt Musty [Grace Potter] & guitarist Val McCallum [Jackson Browne]
for bringing generous amounts of good will and skillful musicianship
to the project. Their time and energy pushed us to a new level
at a time when we needed it most. Thanks also to new friends:
trumpet player Gary Hubbard and vocalist Abby Jenne whose
talents have been refreshing and dynamic in all the right ways.
This is an album with edge and style, largely defined by the
songwriter but then quadrupled in artistry by these players. Truly
a collaborative experiment that has kept us surprised at
every twist and turn. 
As producer and primary session musician (gulp!) for this project,
my hours in the studio can be long and nail biting. Being a bit of a
perfectionist, i want to get things right and sometimes that means
dismantling a song & putting it back together in a new way. Ariel
has been very patient with my process, and the results speak for
themselves. Figuring out what I feel in response to her music and
how I want to shape my conversation with it often involves opening
every stringed instrument case in the studio. Each guitar has a
different voice and the microphones play a part. I'm grateful to be
on a high with my learning curve, still challenged but really enjoying
the outcomes of my intuitive approach to arranging. 

What's left now for me are a few more overdubs, and lots of
mixing angst. This is where the rubber hits the road. I'm looking
forward to getting everything wrapped up by the end of the summer,
at which time the whole kit and caboodle will go to our mastering
engineer in New York City. Stay tuned and we'll report back when
we go to press. Yes, we are making a physical CD, even though
it's starting to be considered old fashioned. A real thing in your
hand is really nice to have, even if it is symbolic, or considered a
souvenir. We still like 'em.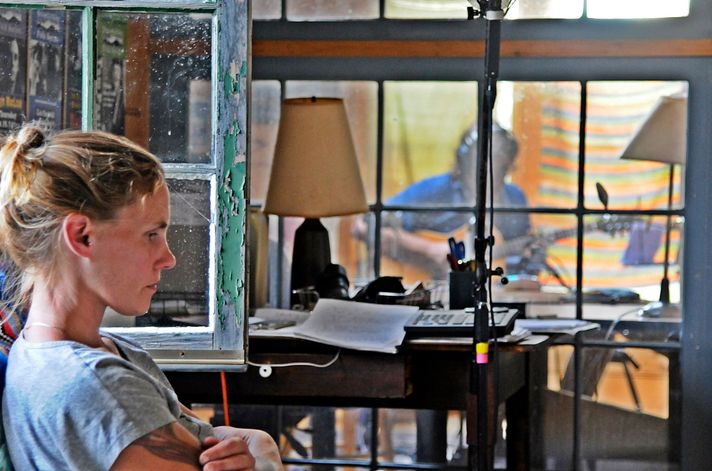 [Ariel Zevon and Val McCallum]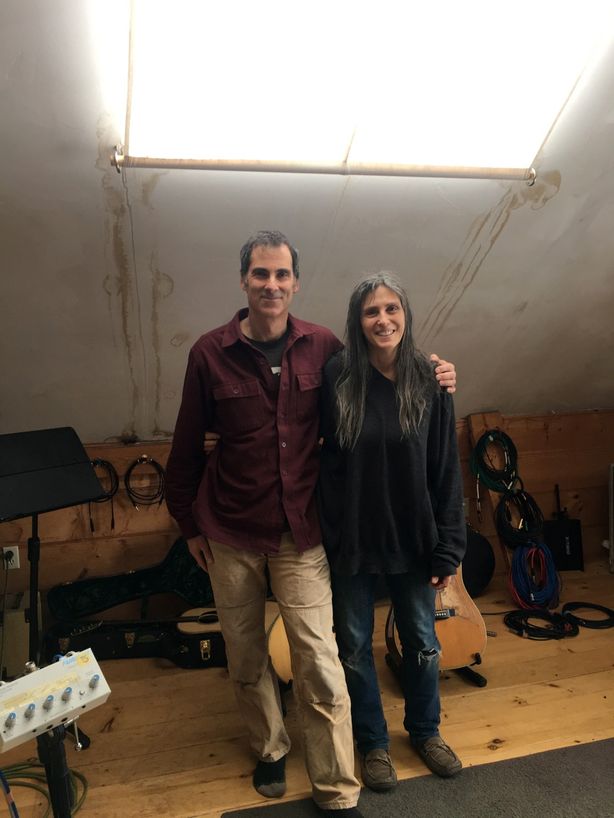 [Dave Keller and Kristina Stykos]
Congratulations to songwriter and performer Robert Bryant upon completion of his double album recorded here at Pepperbox Studio over the last year and a half! His collection of songs is titled "Back Road Benevolence" and spans two disks, each produced with its own distinct flavor and production style. Disk One, "Heart of the Hill" is a group of songs Robert put in my hands to arrange, with additional musical contributions from fiddler Patrick Ross, vocalist Nikki Matheson and Robert's daughter Caileigh. Disk Two, "As Far As We Know", features the collaborative work of Robert and blues guitarist Dave Keller, which I captured live here at Pepperbox in a couple sessions. Really great stuff and much beautiful effort from all participants thanks to Robert's persistent and loving guidance. He truly had a vision here, and made sure we got it to the finish line.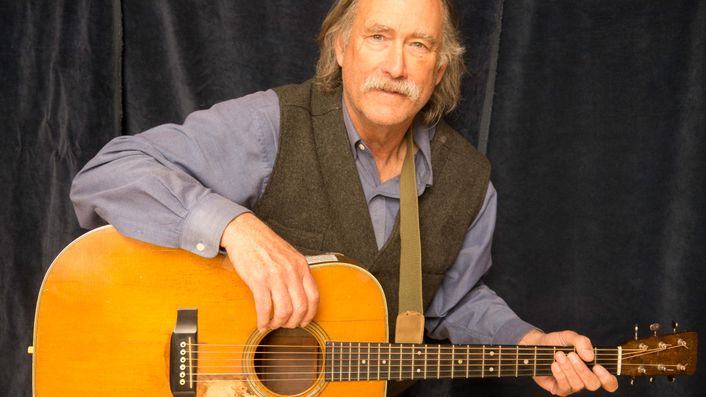 [Davey Davis]
Davey's album Bones of the Heart is moving along, with the planning stages for a live weekend recording session in the works, to cover all the basic tracks to this 13 songs CD. After charting everything out from Davey's remarkable home-spun demos, we decided to start with a basic trio of bass, drums and rhythm guitar and work upwards from there. Spending a solid two day listening retreat was exactly what I needed to gain insight into what makes these songs tick. I had to figure out some of the key pieces that make up his signature sound, a funky groove that Davey has honed after years of working alone in his home studio. Coming away from that I found myself meditating on a little Willie Nelson, a little Buddy Holly, and a handful of something psychoactive. The deceptively simple language and smooth vocal delivery that comes so naturally to Davey somehow packs in a powerful message. So I'll be excited to be in the studio soon with Davey, his brothers Jeff and Rick, and drummer Jeff Berlin. We'll see what we can do to serve up this incredible songwriter's vision in a new, more potent cocktail.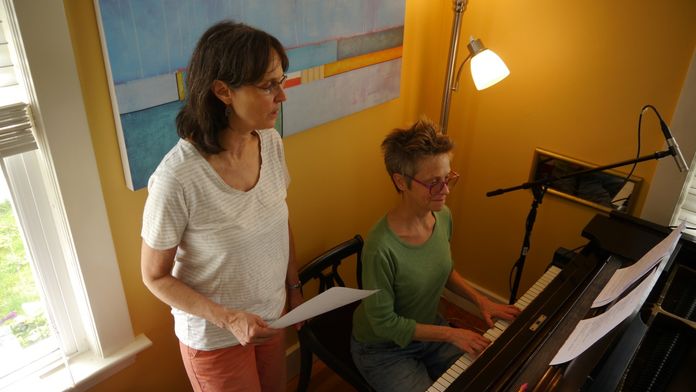 [Deb Langstaff and Megan Henderson]
In April, I took some of  my recording gear on a road trip and headed to Providence RI, then Boston MA, to record two musicians who have worked together for years and recently embarked on an amazing project. Deborah Langstaff, who some may know as the daughter of John Langstaff, founder of Revels, has taken her life-long study of the poems of German poet Hilde Domin and applied it to the creation of songs using her own [Deb's] translations, approved by the poet before her death in 2006. Trying out the compositions together for the first time, Deb and pianist Megan Henderson were able to lay out the groundwork for this incredibly moving song cycle in one short weekend.  I was the fly on the wall, catching each take with rapt attention as it went whizzing by. Watching these two seasoned performers iron out their arrangements was awe inspiring. Did I mention we ate well? Somehow there was also time for dinners at the local Indian restaurant. For what is music without food? Deb and I will be mixing phase one of the project in Vermont in June, at Pepperbox Studio.