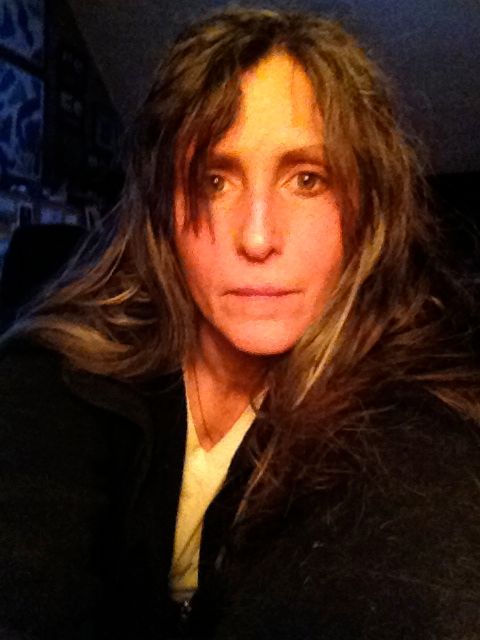 [Kristina - or is it Mona Lisa - after a vigorous cross country ski out the back door in sub-zero temps]
This winter was incredibly rich and fruitful for songwriting, although the process had it's arduous moments of self doubt and confusion. Why confusion? Because sometimes it's unclear if there's  really a song there - but you won't know until you try. Those first hours of looking around the psyche, fretboard and/or keyboard for material are a little nerve wracking. But when it clicks, the wild ride begins. Can you bring it home? Only an immersion into the heart of the topic and your musical chops with tell. I use the recording studio as a way to commit an idea to further development and that usually means going all the way into an arrangement and rough mix, then letting it sit and gestate for a bit. If I like it when I come back to it, now that feels great!

So at this juncture, I'd say I'm 2/3 of the way towards a new album -yes, I'm still using the album model to move through and collect my musical output - and I expect to be releasing it in January of 2015. I am finding the vein of Americana roots rock still coursing strongly in my voice, so that flavor will continue, along with some surprises, such as a jazz ballad. Drummer Jeff Berlin continues to be my partner for laying foundation work on his kit, which brings a swampy,  laid back tension (does that make sense?) and backbone to the songs. I'm so lucky he has sunk his roots down in the White River watershed. Also, assistance from the awesome guitar fingers of my cousin Steve Mayone, and likely some banjo madness from Bow Thayer on the way.
Click Here For a Sneak Preview of Kristina's New Music on Soundcloud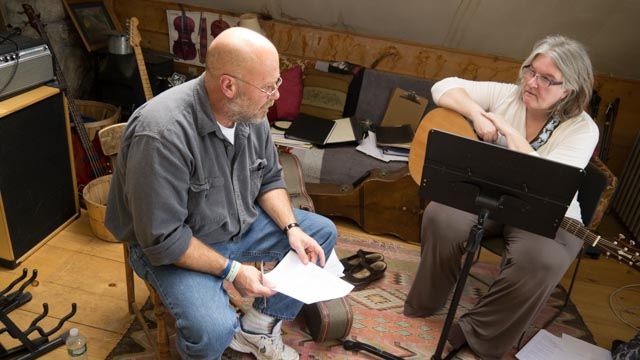 [Joe Hemingway and Mary Collins word-smithing lyrics for "Song from Sandy Hook"]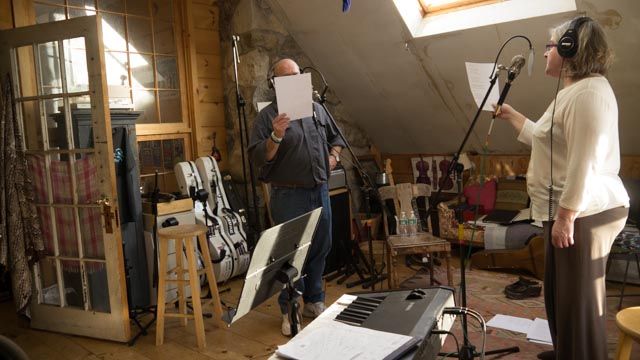 [Joe Hemingway and Mary Collins singing and recording "Song From Sandy Hook" at Pepperbox Studio}
This winter I was honored to be invited into a songwriting collaboration with Mary Collins and Joe Hemingway, a song we then recorded here at Pepperbox Studio. Joe lives in Sandy Hook, CT and has been a leader in helping the town heal and move forward after the 2012 school shooting at their elementary school. He and Mary are old friends, and this project was designed as a fundraiser to support the recovery of the town and its families.
Link to "Song from Sandy Hook" on Soundcloud
Link to Fundraising Facebook Page for the Sandy Hook Community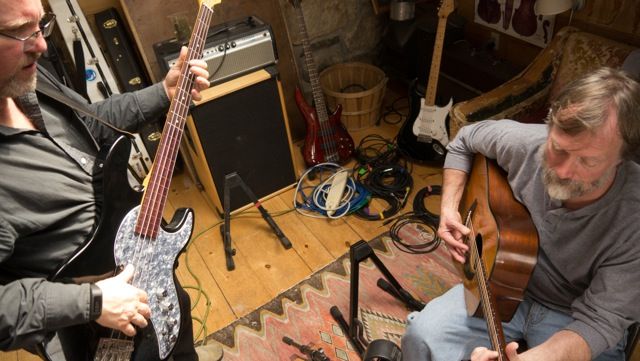 [Bassist & drummer Charlie Shew laying tracks with singer-songwriter Ben Reed of Billings, MT]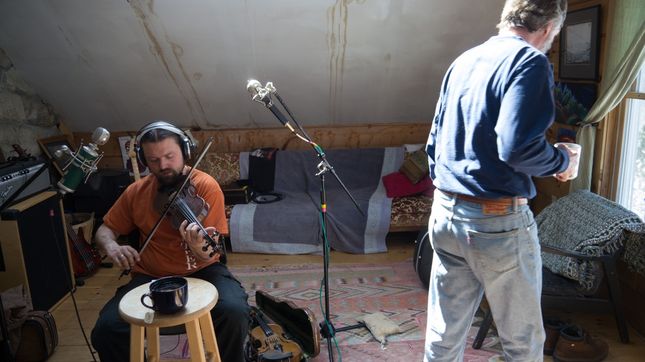 [Fiddler Patrick Ross getting ready to throw out some ideas to Ben]
For the last year I've been weaving together threads of the past and future, adding production and parts to singer-songwriter Ben Reed's unique material, in support of his first album. In March, Ben traveled to the East Coast from Billings, Montana and was able to spend a week here at Pepperbox Studio, to focus exclusively on his project. We worked together with session players from the region, including drummer and bassist Charlie Shew of Northampton, MA and fiddler Patrick Ross of Newbury, VT, to go deeper into Ben's vision. This is a very rewarding kind of studio work for me, orchestrating a gathering of skilled, creative musical minds around an original song. Thank you, universe, for letting me in on the fun! Since Ben left, I've continued to work on his tracks as a mix engineer and editor, and had the pleasure of spending a day with songstress Lizzy Mandell of Calais, VT, coordinating and recording her harmony parts.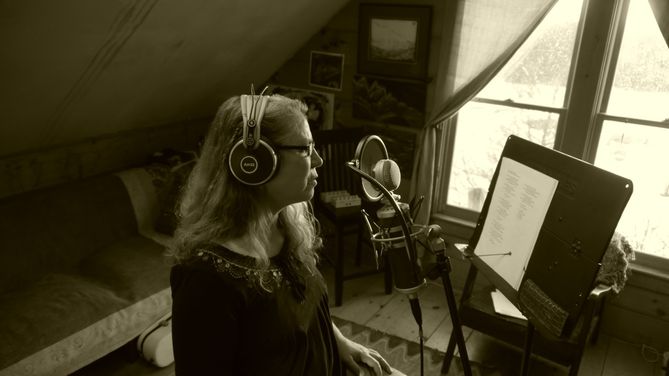 [Lizzy Mandell singing harmony vocals at Pepperbox Studio for Ben's upcoming album]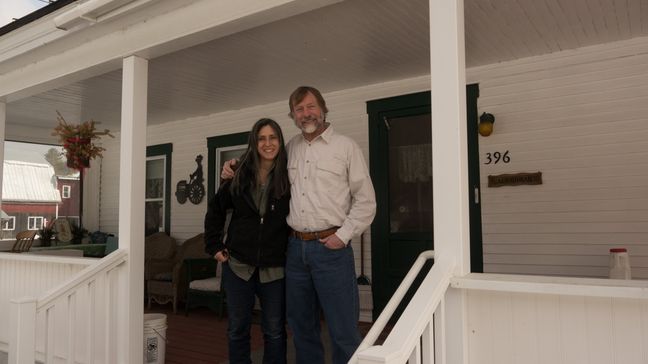 [Kristina Stykos and Ben at the end of a successful week of recording in Chelsea, VT]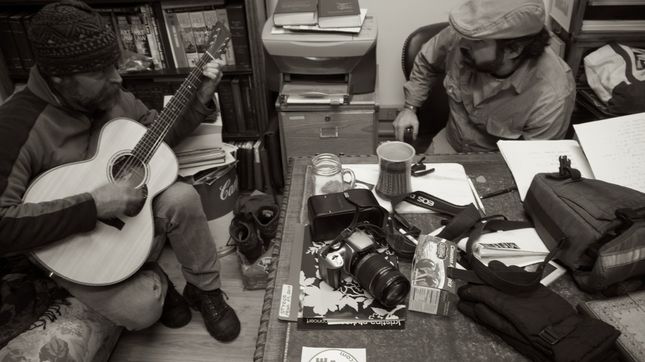 [Backstage at the Walkover Gallery and Concert Room, the Cousin's Project gets a surprise visit from guitarist Doug Perkins]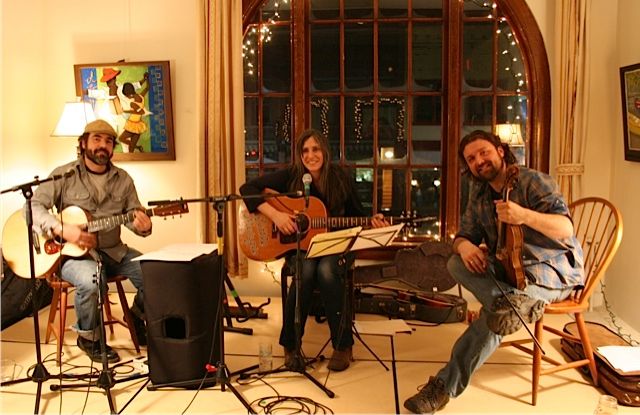 [The Cousins Project, with fiddler Patrick Ross]

Also in March, The Cousins Project gathered once again in Vermont, for an intimate show at the Walkover Gallery and Concert Room in Bristol, VT. For those who don't know, my duo with 2nd cousin Steve Mayone is called the Cousins Project. Our album "Beautiful Blood" is an Americana-style, guitar-centric journey with original songs from both of us, as well as some exciting co-written pieces. We were joined by fiddler Patrick Ross for this gig, to make us a trio. It was great to be back in Bristol!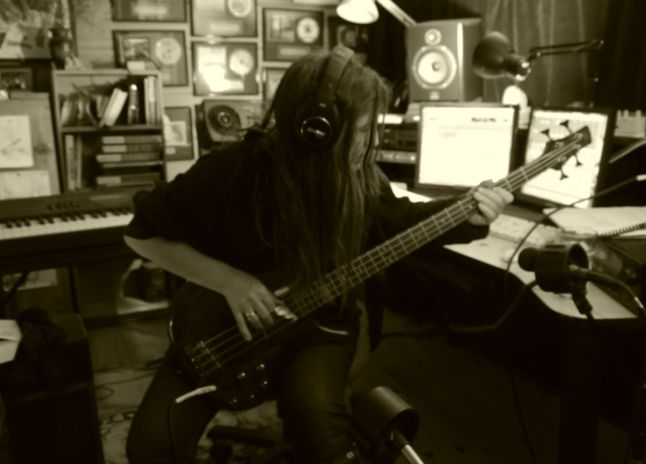 [Kristina working on a bass part at Pepperbox Studio]
Okay, so this is a typical sight in the studio, especially during the winter months when I go into my introspective mode. I get ideas and have to follow them through, come hell or high water. Here's something that grew out of a groove laid down by drummer Jeff Berlin. I'm playing everything else: bass, keyboard, electric guitar .. and of course you'll see that I have something to say; it's about as close to a political statement as you'll ever hear me say in public:
Click here for a new video from Kristina: The Musician's Lament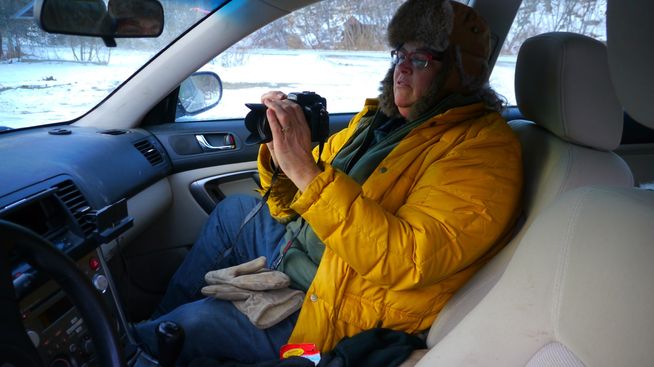 [Warming up in the car during winter filming; with Julie James]
Speaking of video, I have a most amazing friend and colleague in Julie James, who as many of you know, has worked with me in the studio and also in the field as my videographer. This winter was no exception and when I said I wanted to shoot "green ice" in the middle of the coldest Vermont winter in decades, she said: " Let's go!". It was one of those days we had to retreat to the car every five minutes to thaw our hands. But as always, she harvested brilliant shots of me in my rural universe, as well as that wild nature all on it's own. We work together, and I keep my camera handy too. Between us, we know a lot of secret places where the river runs deep. I could not have made the following video, and many others, without her:
New Music video from Kristina Stykos: You'll Never Love Me on Youtube

 It's a small community of musicians who are working professionally or semi-professionally in Central Vermont, and over the years you bump into them, and in some cases, forge friendships that are non-competitive, and deeply admiring. One such friend of mine is Spencer Lewis, a richly talented guitarist and songwriter, who, like me, decided in his youth to sink roots in the remoter parts of Vermont and roll up his sleeves. In the last few decades, Spencer's gone to work every day as a musician, horse logger, stone mason and recording engineer. We have a lot in common. And any chance we can, we do a good turn for each other, unceremoniously, and ofter unexpectedly. This winter I woke up one day to find that he had written a review of my song "Jackson" (2013 Wyoming Territory). Here it is:
Review of Kristina's song "Jackson" by Spencer Lewis on No Depression - The Roots Music Authority