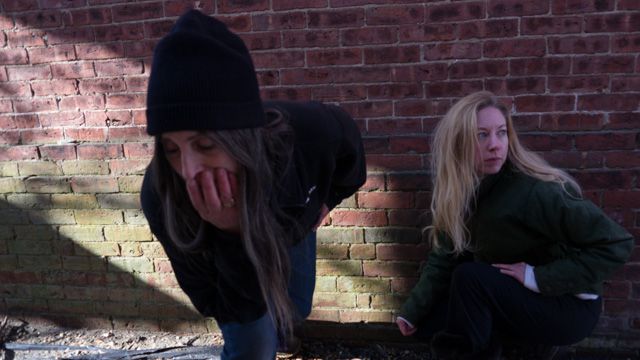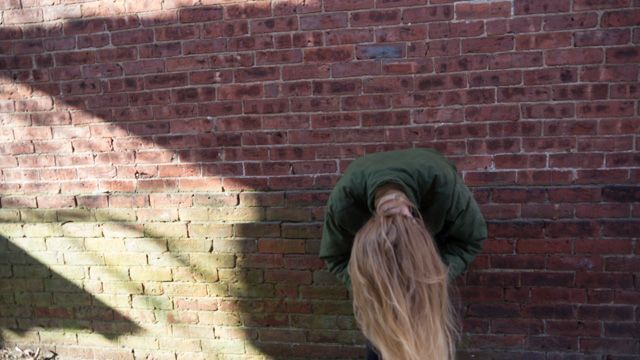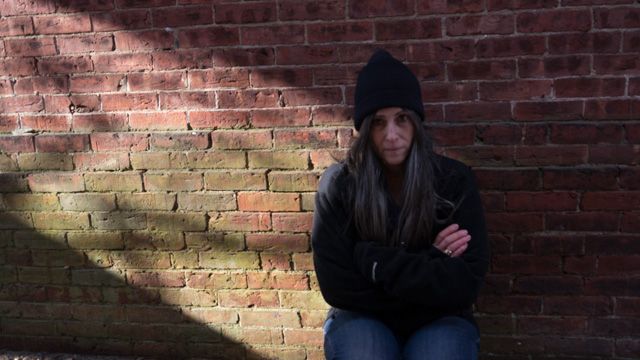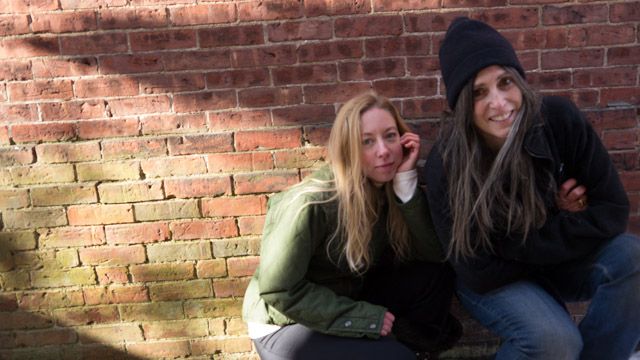 [11th Hour Radio co-hosts Emily Ferro and Kristina Stykos]
It's been almost a year we've been broadcasting our hour long talk show live on Royalton Community Radio, Fridays at 11 am, and the most exciting thing is that now you can listen to our podcast whenever you want! Here's what we say in our blurb: "Artist-entrepreneurs Emily Ferro & Kristina Stykos host this hybrid show of low-key banter, philosophical musings, topics of local interest & rural living, and their adventures in pursuit of creative self-employment. Featuring 3-4 tracks of made-in-Vermont music." And that is just about as fun as it gets! Love this project! Watch for our videos and blog, coming soon to a computer near you!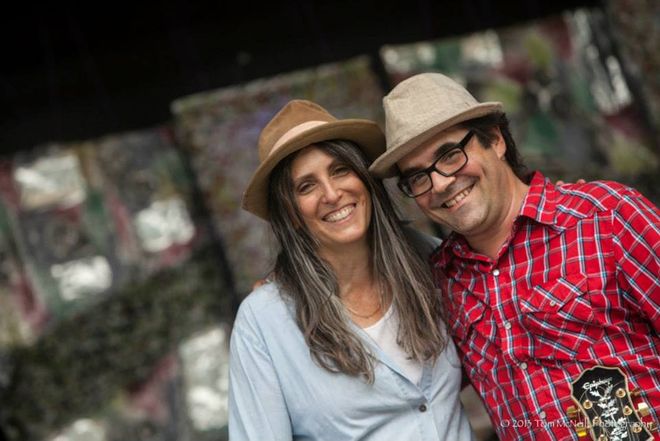 [The Cousins Project: Kristina Stykos and Steve Mayone; photo by Tom McNeill]
VPR's Vermont Edition interviewed the The Cousins Project in November, with Kristina live in the VPR studios and Steve on the phone, calling in from Brooklyn NY. Here's a link to that conversation CLICK HERE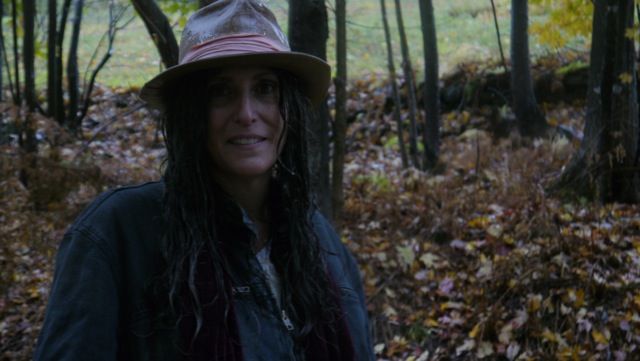 [It's me and I'm soaking wet]
Yes, intrepid videographers that we are, Julie James and I took an epic trip into the wilds of Stockbridge VT right around Halloween and hunting season, to shoot footage for future music videos. We met at the bottom of West Hill Road as thunder clouds swarmed overhead, determined to out-run the gods of rain. And then the skies did open! But who drives an hour to get amazing end-of-foliage panoramas and turns back because of a little ... wetness? It wasn't until the gunshots came in our direction as we trespassed what looked like a summer place that we called "Uncle". Not sure I would wander up that road again. But wait 'til you see the view! Stay posted.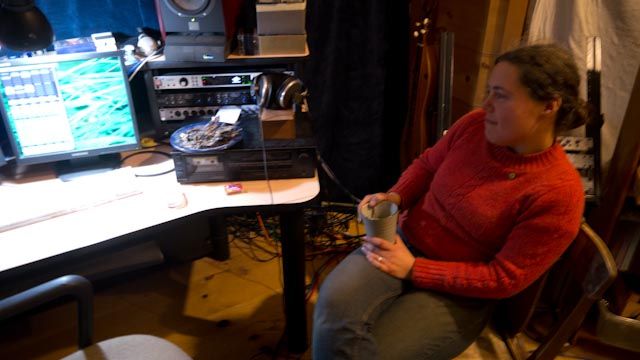 [Miranda Moody Miller]
Here is Miranda, who's just a hoot to work with and a powerhouse vocalist, at the console with me during her mix at Pepperbox Studio in November. Our first deadline was to get her material ready in low-tech form for Christmas: Check! Next up: the finished product, a polished album of her songs to be completed in 2014. Miranda and her husband live totally off-the-grid in East Corinth VT,  and she walks, skis or snowshoes in and out of the woods, to and from her house ... to follow the siren call of her employment, her draft horse and her muse.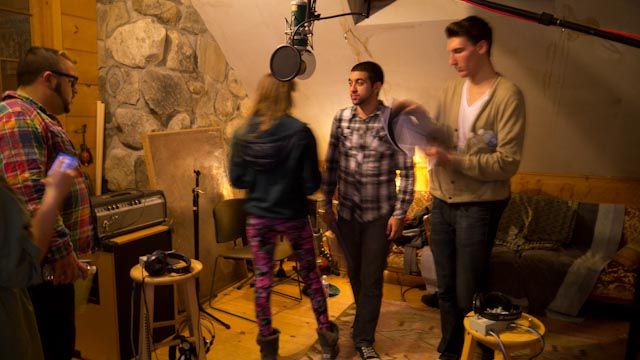 [Cast members from the musical "EXTRA" at Pepperbox Studio, Chelsea, VT]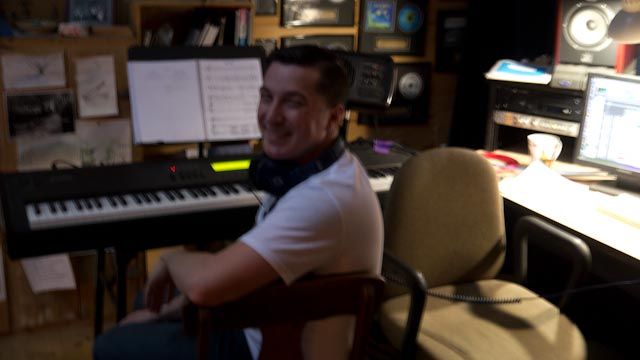 [Alex DiCicco, composer & director of the musical "EXTRA"]
This was an amazing project to engineer. It all started a few years back, when I donated six hours of recording time at Pepperbox Studio, and my services, to The Putney School Silent Auction. Here is Putney alum Alex DiCicco, the winner of that session. We finally coordinated our schedules and got down to business this November, when Alex and six cast members from his production drove up from Albany NY to track vocals for a demo recording. Everyone worked diligently and cooperatively to make this dream a reality - a real treat to collaborate with such high caliber talent! Congratulations Alex, for bringing this musical to fruition with extraordinary creativity, and skillful direction. I wish you the best of luck with the show!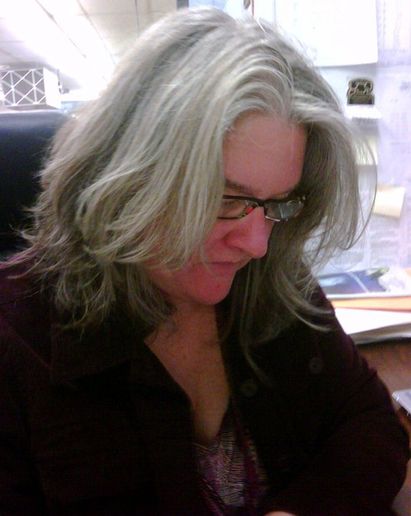 [Mary Collins]
October saw the start of Mary Collins first full-length album project here at Pepperbox Studio, and we kicked it off with a song Mary wrote called "Song for Newtown". This song has gone on the become a fundraiser for community healing  in Newtown CT, and was produced with assistance from musicians Patrick Ross, Lizzie Mandell and myself. It's a beautiful piece, and I'm looking forward to really digging into Mary's material in 2014.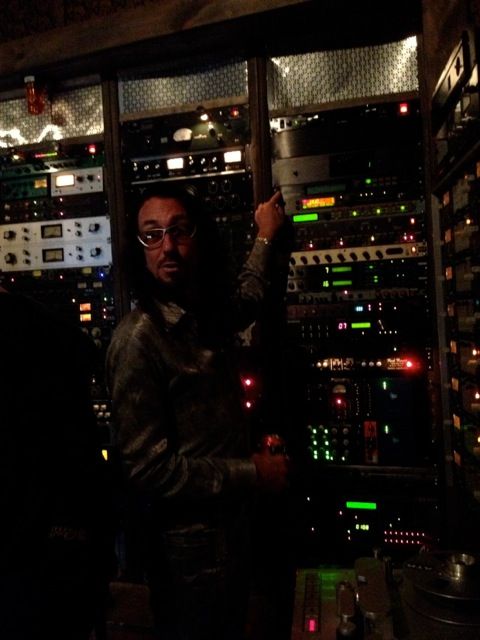 OMG, my first AES Convention! When my brother Marek calls and says "Why don't you come?" I jump. We're talking the Audio Engineering Society Convention, which this year was held at the Jacob Javits Center in Manhattan, NYC. Here he is, pointing to some gear, in a studio somewhere. We went out every night in search of dinner and an AES-related party, but don't ask me where I was. I just called the Uber taxi, generally an SUV big enough to carry me, my bro and his crew from Audio Alchemist, and followed along. In addition to my carousing with him, I attended several workshops at  the convention, met for the first time one of my favorite mastering engineers Oscar Zambrano, rendezvoused with old friend and fellow engineer Chas Eller, and looked at a lot of audio work horses, toys, bells and whistles. I think I'd definitely go again; the tagging along behind my brother being a big part of the draw.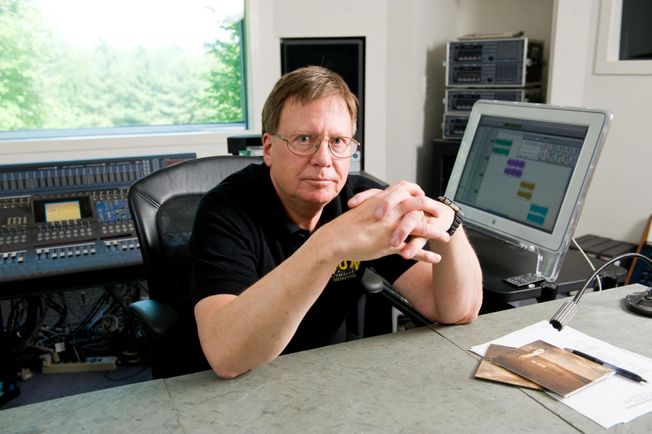 [Lane Gibson, Lane Gibson Recording and Mastering, Charlotte VT]
We stayed local this time for an October mastering session focused on Abrial's upcoming release "Take Shelter". I had a great day hanging out at the console with Lane Gibson. We ate our peanut butter & jelly sandwiches while listening  to Abrial's spare and haunting arrangements, tweaking and enjoying the sonic ear candy enhanced by one super set of studio monitor speakers. Lane is exceptionally easy going and smart, so collaborating to get things right didn't feel like work at all. Thank you, Lane!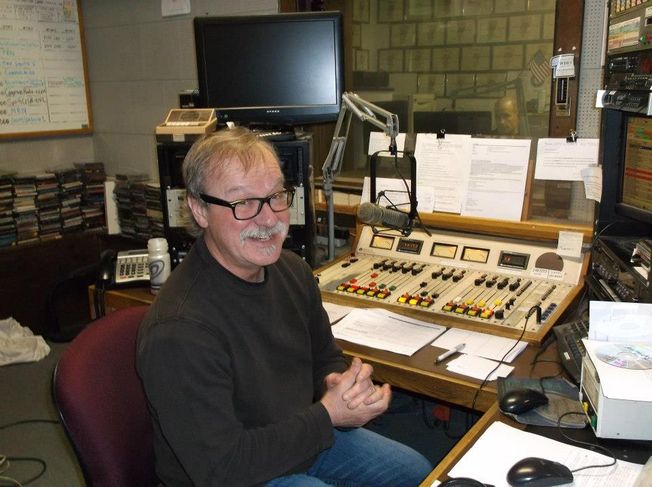 [Arty Lavigne, WDEV Studios, Waterbury VT]
I love Artie Lavigne! We are so lucky to have him,  Jack Donovan and other great DJs at Vermont's locally owned radio station WDEV. This station has supported my work like no other. Where else in the US could I be featured on a show called "Music to Go to the Dump By"? But Arty's afternoon show, "The Getaway" is stellar. He had me on for an in-depth interview in October and I totally enjoyed it. Kisses to all!